Are you living your best life? You will be when you run or walk your way through the Trinity Triumph 5K, which supports people with developmental disabilities and mental illness!
Online registration is now closed. Please register in person, at the event.
A huge thank you goes out to all of our 2019 sponsors!

Join us for this celebratory, uplifting community race at 7 p.m. on Thursday, June 20, in the New Lenox Village Commons. This race celebrates the triumphs and achievements – big or small – of those who participate and of the adults and children with disabilities who are supported by Trinity Services.
For those who prefer a shorter route, a 1K walk is available. The 5K course is certified by USA Track and Field, and the race is chip-timed for accurate results. Awards will be given to the fastest male and female runners, as well as to top performers in various age ranges.
For every $30 registration fee or individual donation, supporters will receive a chance to win an Amazon Echo Show!
All registrants will receive this tech T-shirt and a drawstring swag bag.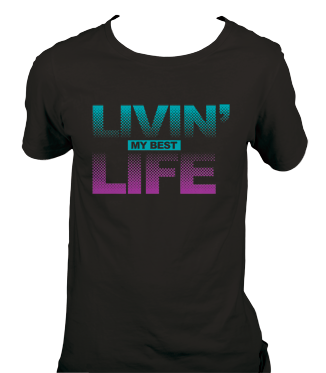 View sponsorship opportunities below.
---
Triumph - $2,000

Top sponsor on website with logo & link
Logo prominently displayed on event banner, signage and race T-shirts
Your corporate banner/sign at finish line
Opportunity to drive your car/truck as pace car to start the race
Prominent recognition on social media and during awards ceremony
Ad in Trinity newsletter (circulation 14,000)
Ad in employee newsletter (reaches 1,200 employees)
Prime space for sponsor table at event
Promotional item for 300 swag bags
Six complimentary race entries

Victory - $1,000 (or in-kind donation)

Logo on website with link
Logo on event banner, signage and race T-shirts
Recognition on social media and during awards ceremony
Ad in employee newsletter (reaches 1,200 employees)
Prime space for sponsor table at event
Promotional item for 300 swag bags
Two complementary race entries

Rejoice - $500 (or in-kind donation)

Logo on website
Logo on event banner and race T-shirts
Recognition on social media and during awards ceremony
Space for sponsor table at event
Promotional item for 300 swag bags
One complementary race entry

Swag Bag - $500

Logo on 300 drawstring swag bags
Logo on website
Logo on event banner and race T-shirts
Recognition on social media and during awards ceremony
Space for sponsor table at event
Promotional item for 300 swag bags
One complementary race entry

Inspire - $150

Name on website
Name on event banner and race T-shirt
Space for sponsor table at event
Promotional item for 300 swag bags

Friend - $50

Promotional item for 300 swag bags