View All
From My Pad to Yours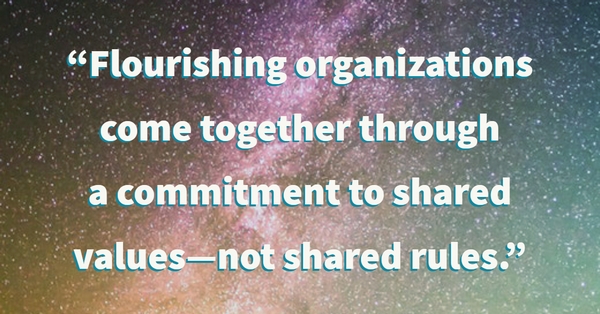 A harmonious organization doesn't just happen on its own nor does it maintain itself without conscious effort and attention. As in music, interpersonal harmony is achieved through the interplay of rules and relationships. It is not an accidental creation.
Rules pertain to order, guidelines or principles for regulating or governing action or behavior. They involve the exercise of authority. They also promote productive, safe, healthy and harmonious workplaces by providing structure, boundaries and an ability to experience the future in a predictable fashion.
There are both positive and negative aspects of rules and rule-making. From a positive perspective, rules are meant to be followed and enforced. Trinity's rules are generally found in a policy manual and the employee handbook. Let's consider some of them.
Persons served are not to be mistreated.
No smoking is allowed in Trinity work sites.
Neither drivers nor passengers may eat or drink in agency vehicles.
Staff work fixed hours and schedules.
Employees need to notify supervisors if they are not coming to work.
Third shift employees must be awake during their shifts.
Team leaders must complete monthly staff evaluations.
Residential sites must be locked during staff, residential absences.
Employees are not to do personal laundry in Trinity homes.
Only classical music is permitted at Trinity work sites.
While the list includes only a few of our rules, the good news is that they are always followed and always enforced.
These rules did not suddenly appear. Generally speaking, they came into being in response or reaction to a negative event or troublesome situation. Since we are trying to prevent more undesirable behavior, I believe all of them are necessary. Another important characteristic of the Trinity rules is that they are tailored to our organization. They address issues in our culture. To my knowledge, there isn't a Disability Services Rules Package currently for sale. CEO's do not call me asking for a copy of our rules, and I do not want copies of theirs.
While rules are established for a reason, they may, over time and with organizational growth, be forgotten. As a result, employees can lose touch with the rationale and intent of the required action. If they do not understand the why of the rules—the spirit and intent behind them—they may come to believe that a rule does not apply to them. Others, perhaps by the nature of the tunes in their heads, look for the loopholes or pathways of evasion. Some are actually loophole hunters.
For instance, several years ago, Steve Adams, an Alaskan postal clerk, decided to modify his uniform by wearing bow ties that were anything but the simple blue required by the "rule book." He wore bow ties decorated with the Three Stooges, Looney Tune characters, and an endless variety of other items. Postal clients actually gave him new tie versions they happened upon in their travels until he had a huge collection.
However, the bosses were not amused. They finally ordered him to follow the rules. Adams didn't want to lose his job, so he complied. He returned to work with the approved blue bow tie, but he also wore a pair of suspenders decorated with the Tazmanian Devil—an item not mentioned in the postal rules. In spite of the humor of such instances of thumbing one's nose at rules, it is my belief that rules are important and necessary for harmonious human interaction.
So what is the downside of rules? We already know that one downside occurs when people do not know the rationale or intent of the rule. My primary objection to them as an organizational dynamic or mechanism of employee control is very simple. An organization that emphasizes rules and has a great number of them loses sight of what is good, right and well intended. Instead it focuses on what not to do. Rules reflect the past; they do not serve as guides for the future.
At my age, I have come to realize that I live in a messy, gray world—not a neat, black and white one. When I was 35, I was more certain of things than I am today. A black and white world is easier to navigate; however, it doesn't actually exist. By the way, I'm not speaking of moral relativism. I believe that some things are good and others bad or evil.
So let me make some observations about rules.
Rules do not work because you cannot include all of the possible aspects of the behavior to be governed.
In a rules-dominated culture, employees will think that they can do things that are questionable because they are not in the rule book.
Rules create minimum expectations.
Rules are not the most effective way to achieve the outcomes we are seeking.
Flourishing organizations come together through a commitment to shared values—not shared rules.
A rules-dominated organization leads to hierarchy and employee separation.
Rules lead to the presence of more rules.
Leaders invested in having rules haven't done well at Trinity—whether as team leaders, program directors or professionals with advanced degrees. In fact, "rulers" should be rejected by those below them, those alongside them or those above them because rules create a constipated culture.