View All
From My Pad to Yours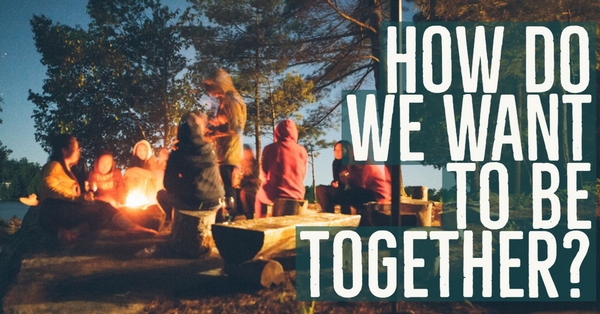 Let's consider some of the relationships that make up our lives and networks for a few minutes. I have often stated the importance of our answer to the question, "How do we want to be together?" While there are many possible replies, our responses as leaders clearly play themselves out in the harmony and productivity of the workplace. Virtually every important function at Trinity, every strategic goal is accomplished through relationships.
We all engage in many different relationships. There are:
Personal, friendship-based relationships – attachments based on affection and/or respect
Spiritual relationships – ecclesiastical or sacred and God-related affiliations
Sports/athletic relationships – various levels of competitive associations
Romantic/sexual relationships – the most visible and talked about connections
Transactional relationships – occurring because of the "exchange" function, a characteristic of most organizations
Family relationships.
However, two important relationships don't appear in the list: the relationship to self, and the service or commonweal relationship (for a purpose greater than oneself, for the general welfare). Both have a great stake in the discussion of harmony.
First, it is very difficult to be in harmony with others if you are not in harmony with yourself. Said another way, we could ask the question, "How do you want to relate to and/or feel about yourself?" For instance, are you joyful, embarrassed, content, dissatisfied, relaxed, agitated or unhappy?
Peter McWilliams wrote an informative book in the early 1990s called Do It: Let's Get Off Our Buts. In it, he invents the word "selfing" and defines the concept as "doing for one's Self in the larger sense of Self—as in True Self, or 'to thine own self be true.' It means fulfilling our inherent dreams, goals and aspirations. It means living our life 'on purpose.'" It's the opposite of being selfish—excessively consumed with your own welfare. It's the opposite of the constant need to gather stuff. It's the opposite of trying to impress others and to be what others want us to be. Selfing also differs from selfish in that the person who achieves a goal invites others to share in the benefits resulting from that achievement.
There is absolutely no doubt that our behavior influences others—especially in leadership activities. Leaders inspire their teams with the desire to succeed or "infect" them with dis-ease, based on their comfort with who they are and their perspective on the outer world. That is why we must always ask ourselves the question, "What must I change about myself so that they can change?"
The ability to answer the question requires an understanding of the dynamics of personal harmony. Obviously, we could discuss a broad range of topics, so I have arbitrarily selected three dimensions of harmony, which I will cover in more detail in the next three weeks:
Attention – the ability to attend to or concentrate on a single object, thought or activity
Attitude – a disposition, feeling or position taken regarding a person, thing, concept or event
Organization – the ability to organize one's thoughts, belongings, tasks, goals and actions.
These three elements are essential to a stable sense of self that allows the leader to act and choose to change with comfort when the situation demands it. That stability and comfort can transform a team's culture, focus and achievement level over time, creating a workplace characterized by true harmony.