View All
From My Pad to Yours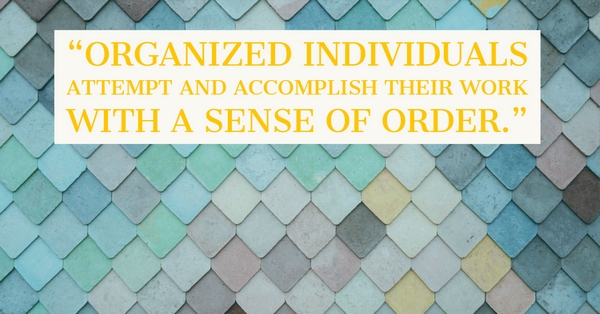 What do we mean when we say someone is organized? Usually, we are referring to the fact that such a person knows what to do, when to do "it," and how to do "it." ("It," of course, can refer to many different actions or tasks in our lives.) Organization implies the presence of structure, beginnings, middles and ends.
Organized individuals attempt and accomplish their work with a sense of order. They:
Use time and resources effectively
Set priorities so that work happens in a systematic fashion
Typically know where they are in relation to goal achievement
Handle interruptions and new assignments well
Are pre-active, prepared to take action before a situation occurs.
As a result, they may face the challenge of being overworked, but they are never overwhelmed because being overwhelmed is a choice.
Following are three foundational ideas regarding the matter of organization.
You must know what your job is to avoid being overwhelmed.

Therefore, it is important to have a detailed, well written job description so that you know exactly what you are expected to accomplish.
In addition, you must know the stated standards of performance.

You must have a system for being organized.

Experts in personal organization offer many alternative approaches. In Getting Things Done, David Allen describes a detailed system that can be modified to fit anyone's needs.
Once you select a system to organize your work/life, you must continue to use it. Using it occasionally just creates a different kind of chaos.
A clearly labeled and accessible filing system makes organization much easier. Lists are also helpful as long as they are constructed in a way that reflects an order of priority.
You must identify clear priorities and organize your tasks accordingly.

You must also have goals and use metrics. It is impossible to be organized if you do not have objectives or intended outcomes. Establishing clear goals allows you to focus on what is important first. It also helps you become a productive leader rather than simply a busy person. To achieve your objectives, ask yourself the following questions:
What am I seeking to accomplish right now?
Can I forecast my own work?
Are my goals written down?
Where am I in relation to my duties and responsibilities? And perhaps more important, where am I in my relationship with others?
Where am I right now? Have I made significant progress toward my goal(s)? (You must measure to know progress whether you made any headway on a task. If you don't measure, how will you know if you have improved?)
While none of us will achieve perfection, we can be much more effective at work and in life when we think ahead, make plans and methodically work toward our goals.