View All
News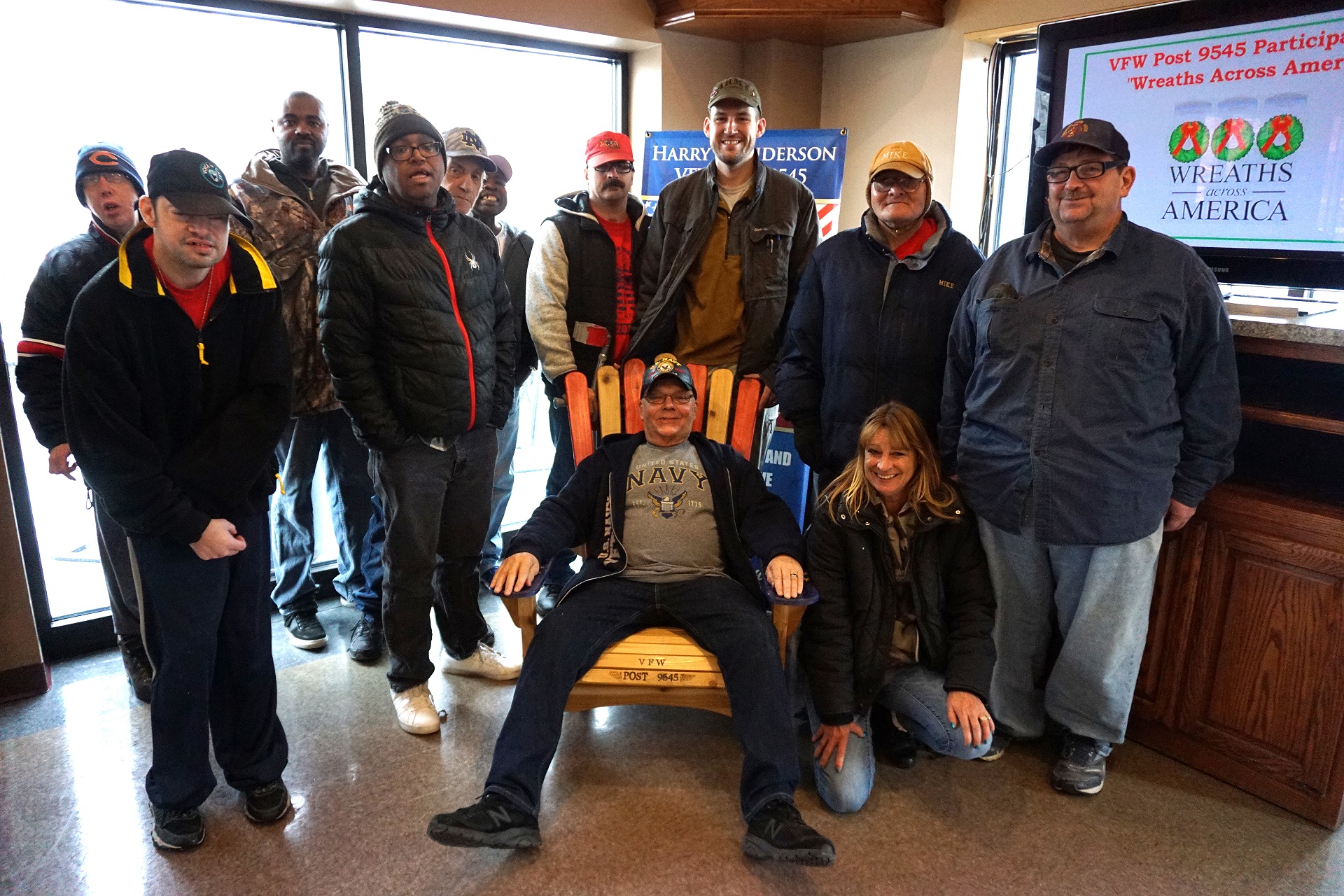 NEW LENOX, IL — Program participants at Trinity Services, Inc.'s New Lenox Woodworks donated their time and talents to making a custom, patriotic Adirondack chair for Harry E. Anderson VFW Post 9545 in New Lenox.
Nine woodworkers from the program, along with Program Coordinator Ryan Nieders, Independent Living Coach Jacquelyn Anderson and Director of Community Day Services Lori Hausherr, presented the chair to Quartermaster Larry Paveza on Friday, Nov. 9.
"On behalf of Harry E. Anderson VFW Post 9545, I would like to thank all of you for the donation of this wonderful chair," Paveza said.
The chair was handmade and decorated by people with developmental disabilities who receive supports from Trinity Services. It has a red-striped back and blue arms adorned with stars. "VFW Post 9545" is burned onto the front of its seat by hand.
Nieders, who is a U.S. Army veteran, conceptualized the chair and decided to donate it to the VFW in celebration of Veterans Day.
"We decided we wanted to donate a chair to the VFW for Veterans Day, which I was excited about, being a veteran myself," Nieders said. "We then came up with a few different ideas before settling on doing a flag design. I wanted to do a minimalist design so we could show off the wood grain and color as much as possible, which is how we eventually got to the final product."
It took about five days to create the chair. The process involves cutting wood pieces using templates the program created, sanding the parts, drilling holes in each piece, assembling the chair and painting two coats of sealant on the chair to protect it from the elements.
"It feels great to know that so many other veterans will get to see and use something that we created," Nieders said.
Adirondack chairs are a specialty creation at New Lenox Woodworks. The chairs can be sold plain, or they can be painted or stained to customers' specifications. They start at $150 and increase in price based on customizations.
Chairs are just one product the program is able to create. It has a variety of outdoor and indoor furniture, decorations big and small, and household essentials like dog dish holders and bottle openers available for purchase. All are customizable.
Proceeds from sales at New Lenox Woodworks benefit program participants, as well as the continued sustainability and growth of the program, which teaches people with disabilities new skills and provides a fun, artistic outlet for them to enjoy the creativity of woodworking and the company of their friends.
The program is now accepting orders for the holidays.
For more information about New Lenox Woodworks, to see more of its products, and to place orders, follow the program at Facebook.com/NLWoodworks or call (815) 463-4692. Customers may also call to coordinate an in-person visit to the program, which is located in New Lenox.
Trinity Services, Inc. is a 68-year-old, nonsectarian, nonprofit organization dedicated to helping children and adults with developmental disabilities and mental illness flourish and live full and abundant lives. Trinity serves more than 3,500 people in more than 30 communities in Will, Cook, DuPage, DeKalb, Grundy, Peoria, Jackson, Madison and St. Clair counties. To learn more, visit www.trinityservices.org.