View All
News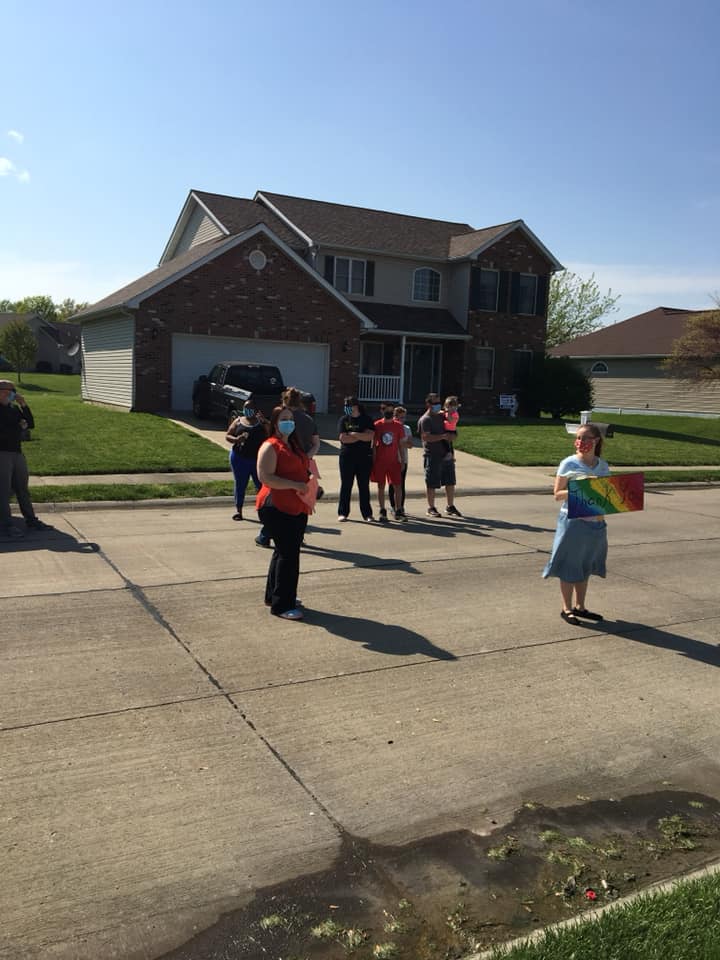 PHOTO CAPTION: Trinity Services staff members and friends cheer on direct support professionals as they finish a 30-day stay-in-place shift supporting people at a group home in Mascoutah, Illinois.

NEW LENOX, IL — Trinity Services, Inc. is proud to announce that the organization was named the winner of a Gold Stevie® Award in the Most Valuable Non-Profit Response and Silver Stevie® Award in the Most Exemplary Employer categories of The 17th Annual International Business Awards® today.
Trinity Services was recognized for its proactive response to the coronavirus pandemic, keeping the health and safety of the people with developmental disabilities and mental illness whom it supports and its staff members at heart.
Trinity created a shelter-in-place staffing model through which more than 150 staff members moved into residential locations for weeks and even months at a time to ensure that people with developmental disabilities were as safe as possible. Many people Trinity supports have preexisting conditions which put them at higher risk for severe complications from the virus.
Trinity staff members created weekly curriculum for delivery to residential locations to ensure that people were staying engaged while day programs were closed because of the pandemic. Trinity school staff also delivered materials and provided remote lessons to students.
The Trinity Counseling Center offered free consultations to people in its coverage area in Will, Grundy and Southern Cook Counties during Illinois' stay-at-home order. This initiative aimed to help people manage feelings of anxiety, fear and stress created by the pandemic and to provide a confidential, remote, stigma-free way for people to receive counseling. Trinity also provided six free counseling sessions to each of its employees in response to the pandemic and offered free subscriptions to the Calm smartphone app for employees.
More than 3,800 nominations from organizations of all sizes and in virtually every industry were submitted to the International Business Awards this year.
Stevie Award winners were determined by the average scores of more than 250 executives worldwide who participated in the judging process from July through early September.
Judges recognized Trinity's quick, adaptive response to the pandemic, as well as the commitment and selflessness of its staff members, who put the needs of the people they support first.
"The world needs more organizations like Trinity Services," one judge wrote. "The way the staff banded together, stepped up and willingly stepped into residential roles speaks volumes about the quality of this organization. Not only has Trinity provided critical care to people in significant need, but they provided much-needed support to their staff, as well."
"Trinity Services staff members are truly heroes, and I am so proud of all that they have done for the people they support during this pandemic," said Thane Dykstra, Ph.D., president and CEO of Trinity Services. "This recognition at an international level belongs to our amazing staff members. Through a very difficult situation, they remained resilient, and went above and beyond to ensure people remained safe and healthy. Our ability to respond effectively and flexibly during the pandemic is thanks to our staff members banding together, supporting each other. Together, we are Trinity Strong."
"Despite the unprecedented impact the COVID-19 pandemic has had on organizations and working people worldwide, the number and quality of nominations we received in this year's International Business Awards attests to the continued outstanding performance of many organizations. The commitment we've seen through these nominations to maintaining the success, health, and safety of employees, customers, and communities is truly impressive," said Stevie Awards president Maggie Gallagher.
Details about The International Business Awards and the lists of Stevie Award winners are available at www.StevieAwards.com/IBA.
Trinity Services, Inc. is a 70-year-old, nonsectarian, nonprofit organization dedicated to helping children and adults with developmental disabilities and mental illness flourish and live full and abundant lives. Trinity serves roughly 3,500 people in more than 30 communities in northeast, central and southwest Illinois. To learn more, visit www.trinityservices.org.