View All
News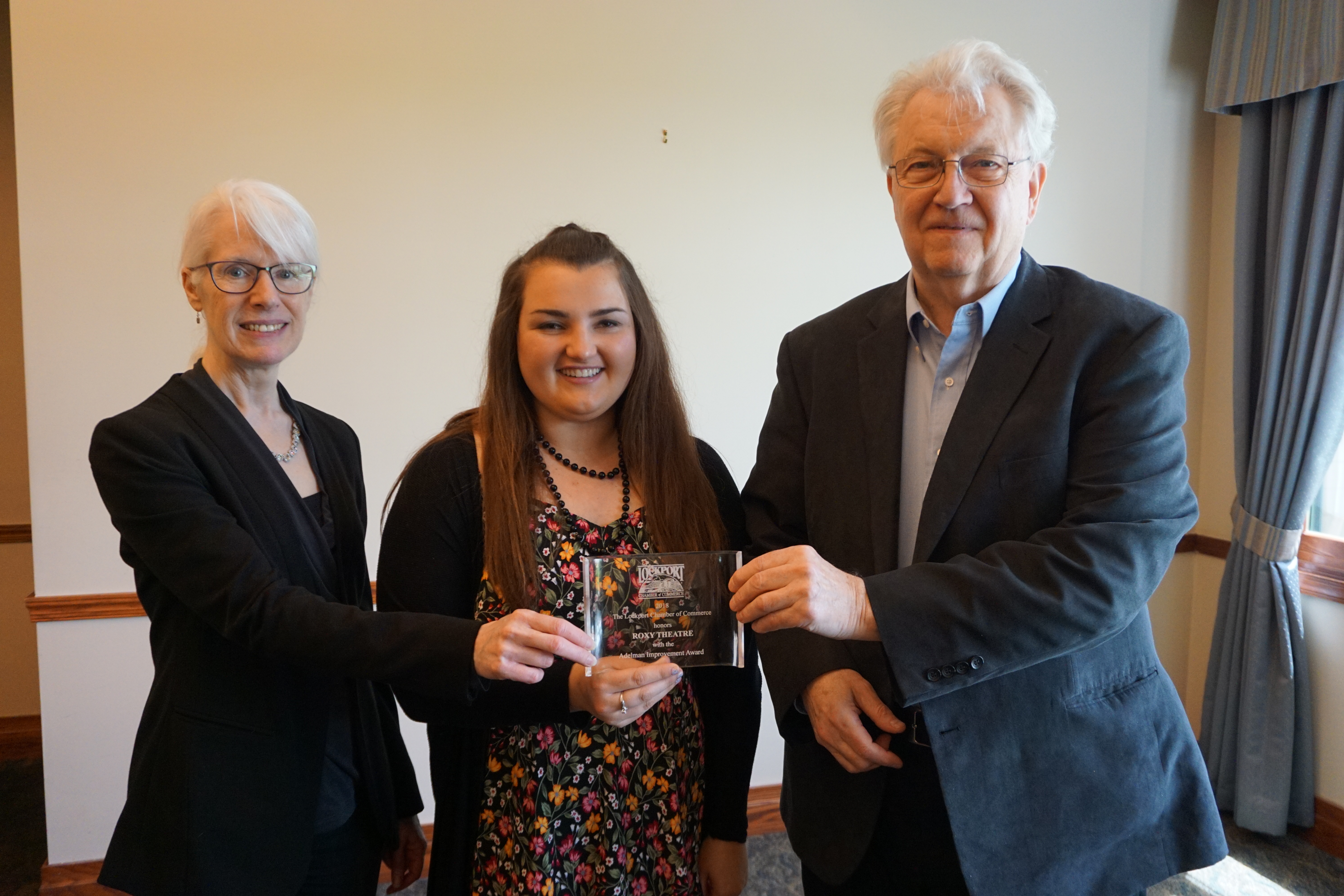 LOCKPORT, IL — ROXY Special Event Venue and Trinity Services, Inc. are proud to announce that ROXY received the Adelman Improvement Award from the Lockport Chamber of Commerce on Tuesday, May 22, at the Chamber's Member Luncheon at Prairie Bluff Public Golf Club.
This award is given to businesses that have made an investment in the Lockport community by making significant exterior/interior improvements to their individual properties which have, in turn, had a positive impact on their neighbors or on the business community.
"It is an honor to receive this award," said Maggie Ruane, event coordinator at ROXY. "It has been wonderful working in the Lockport community this past year, and I look forward to continuing to help more people throw their dream events at ROXY."
ROXY was renovated last year and reopened to the public as a special event venue. Its sophisticated Art Deco design beckons guests to celebrate in elegance. Once a historic movie house, the venue is equipped with a state-of-the-art audio/visual system, stage, large projector screen, illuminated bar, elegant dining area and multipurpose rooms.
Originally built as a feed store in the 1850s, ROXY was turned into a theater in the 1930s and served as a meeting place for the Lockport community. Today, ROXY is owned and operated by Trinity Services, Inc., a nonprofit, nonsectarian organization whose mission is to help people with disabilities and mental illness so that they may flourish and live full and abundant lives. Revenue from the ROXY benefits the people Trinity supports.
ROXY is also regularly used for events and celebrations for program participants at Trinity Services, trainings for Trinity staff, fundraisers benefiting Trinity Services, and as a forum for community education related to disabilities and mental health.
To book the ROXY, contact Ruane at (815) 582-1306 or roxy@trinityservices.org.
Trinity Services, Inc. is a 69-year-old, nonsectarian, nonprofit organization dedicated to helping children and adults with developmental disabilities and mental illness flourish and live full and abundant lives. Trinity serves roughly 3,500 people in more than 30 communities in northeast, central and southwest Illinois. To learn more, visit www.trinityservices.org.