View All
News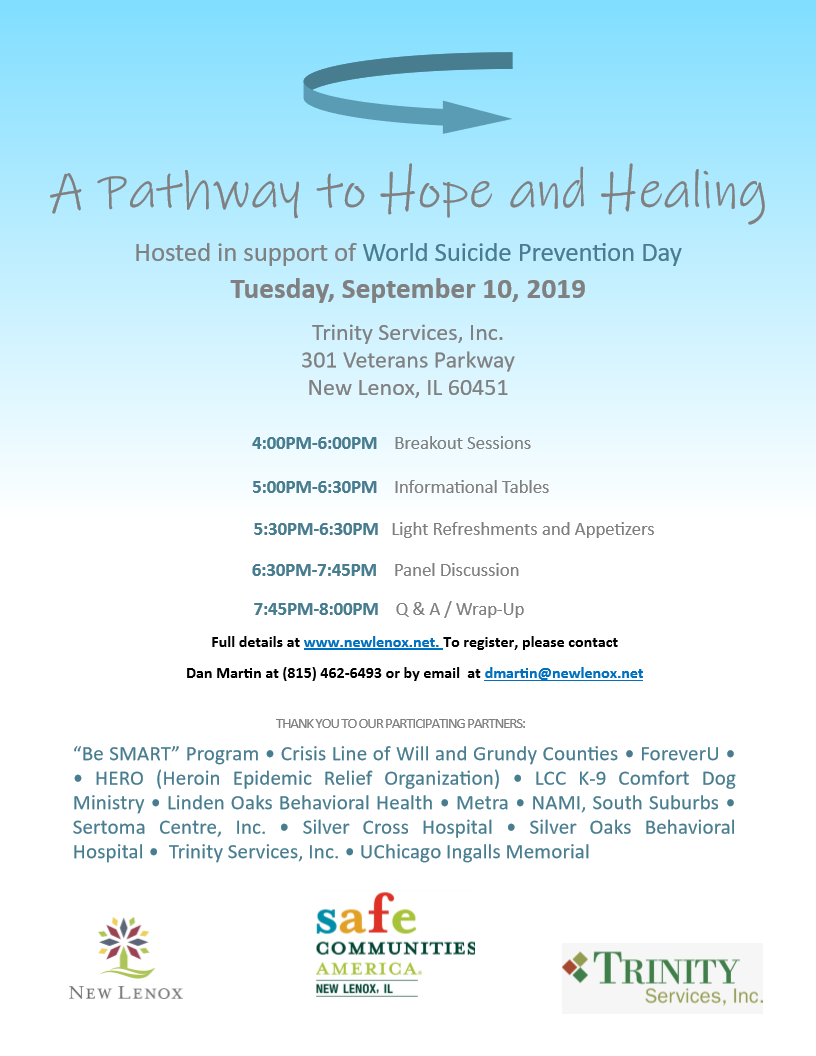 NEW LENOX, IL — Members of the New Lenox community and surrounding communities came together Tuesday, September 10, to break down stigma around mental health treatment and foster a community support network.
"A Pathway to Hope and Healing" was organized by the Village of New Lenox and the New Lenox Safe Communities America Coalition, in partnership with Trinity Services, Inc., and was held at Trinity's Central Office in the New Lenox Village Commons.
The free event drew a crowd of roughly 70 attendees. Some were mental health professionals, and others were community members seeking resources or to share their own stories.
To begin the event, breakout sessions covered finding peace through the grieving process and identifying warning signs of depression in adolescents.
Licensed Clinical Professional Counselor Emily McKenna, of UChicago Medicine Ingalls Memorial Hospital, discussed how each person's response to grief is different, and how responses often waver between being loss-oriented and restoration-oriented. She covered the EMERGE process outlined in Courtney Armstrong's book "Transforming Traumatic Grief." The acronym stands for engaging in mindfulness, making living stories, envisioning connection, reprocessing traumatic memories, generating new meaning and establishing community. McKenna stressed the importance of reflecting on the meaning of loss, receiving social support and internalizing healthy continuing bonds with the deceased.
Chief Medical Officer Joti Randhawa, M.D., of Silver Oaks Behavioral Hospital, discussed development theories of Jean Piaget, Erik Erikson and Lawrence Kohlberg, and presented attendees with two scenarios to discuss. In the first scenario, a girl entering her freshman year of high school moves to a new town with her parents. She was once very social and engaged, but at the new school, she is withdrawn. Randhawa said this would be a normal, temporary response to a big life change. In the second scenario, a boy begins getting poor grades at school and using marijuana alone in his room after his parents get a divorce. Randhawa said this might be a sign of depression. She stressed that the biggest thing parents can do if they notice behavior that is unusual is ask their children how they are feeling, empathize with them, show them support and appreciation, and continue to have conversations with them.
Following the breakout sessions, attendees browsed information tables from the Be SMART Program, the Crisis Line of Will and Grundy Counties, ForeverU, the Heroin Epidemic Relief Organization, the Lutheran Church Charities K-9 Comfort Dog Ministry, Linden Oaks Behavioral Health, Metra, the National Alliance on Mental Illness, Sertoma Centre, Silver Cross Hospital, Silver Oaks Behavioral Hospital, Trinity Services and UChicago Ingalls Memorial Hospital.
The evening ended with a panel discussion moderated by Gia Washington, community development manager at Sertoma Centre.
Mike Mecozzi, Psy.D., director of Behavioral Health Services at Trinity Services, introduced the panel. "By coming together as a community and having these conversations, we can begin to address these topics and discover that we are not alone and that there is help to be found," he said. Mecozzi also thanked Dan Martin, Safe Communities America coordinator, for all of his work organizing the event.
New Lenox Mayor Tim Baldermann thanked panelists for attending and shared his own experiences with suicide. He said his brother died by suicide when he was younger, and he did not know his brother was suffering. "It is our obligation as human beings to look out for each other," he said. He added that his personal experiences as well as his professional experiences early in his law enforcement career influenced him to personally notify every family of a loss when he was chief of the Chicago Ridge Police Department.
To begin the panel discussion, Emily Shelton shared her story of losing her brother to suicide. She said she was very close to him, and the loss took her by surprise and impacted her life deeply. She encouraged attendees to talk about mental health and ask for help when needed.
Charles Cossetti said he lost his father to suicide when he was 2 years old, and he personally struggles with mental illness. He encouraged everyone to fight the stigma surrounding mental health and normalize discussing mental health. He also shared that he wrote a song called "Freepression" that centers on being free from depression and that he hopes will help others feel that they are not alone.
Jeremiah LaPlante said he has attempted suicide at least 30 times in his life, the first time at the age of 10. He said he was forced to undergo conversion therapy twice and discussed the impacts of this on his sense of self and his mental health. LaPlante also shared statistics of the prevalence of suicide in the LGBTQ community and encouraged mental health professionals to ensure they are providing services to that and other marginalized communities.
Kelly Mickey, sergeant of the Hammond Police Department, said it is difficult for law enforcement professionals to ask for help, because they fear they will lose their careers over it. She discussed the high rates of depression and suicide in law enforcement and her own experience contemplating suicide. She encouraged attendees to check on each other and on police officers.
Ryan Hesslau, founder and executive director of ForeverU, discussed how his organization is working to end stigma around mental health for students in seventh through 12th grades by offering resources like personal development retreats.
Dr. Randhawa shared information about the services Silver Oaks Behavioral Hospital provides, including inpatient care for adolescent, adult and geriatric patients.
Those who were unable to attend the event but who would like to learn more about resources available in the community, including the supports available from Trinity Services, may contact the Trinity Counseling Center at (815) 462-4273.
Trinity Services, Inc. is a 69-year-old, nonsectarian, nonprofit organization dedicated to helping children and adults with developmental disabilities and mental illness flourish and live full and abundant lives. Trinity serves roughly 3,500 people in more than 30 communities in northeast, central and southwest Illinois. To learn more, visit www.trinityservices.org.