View All
News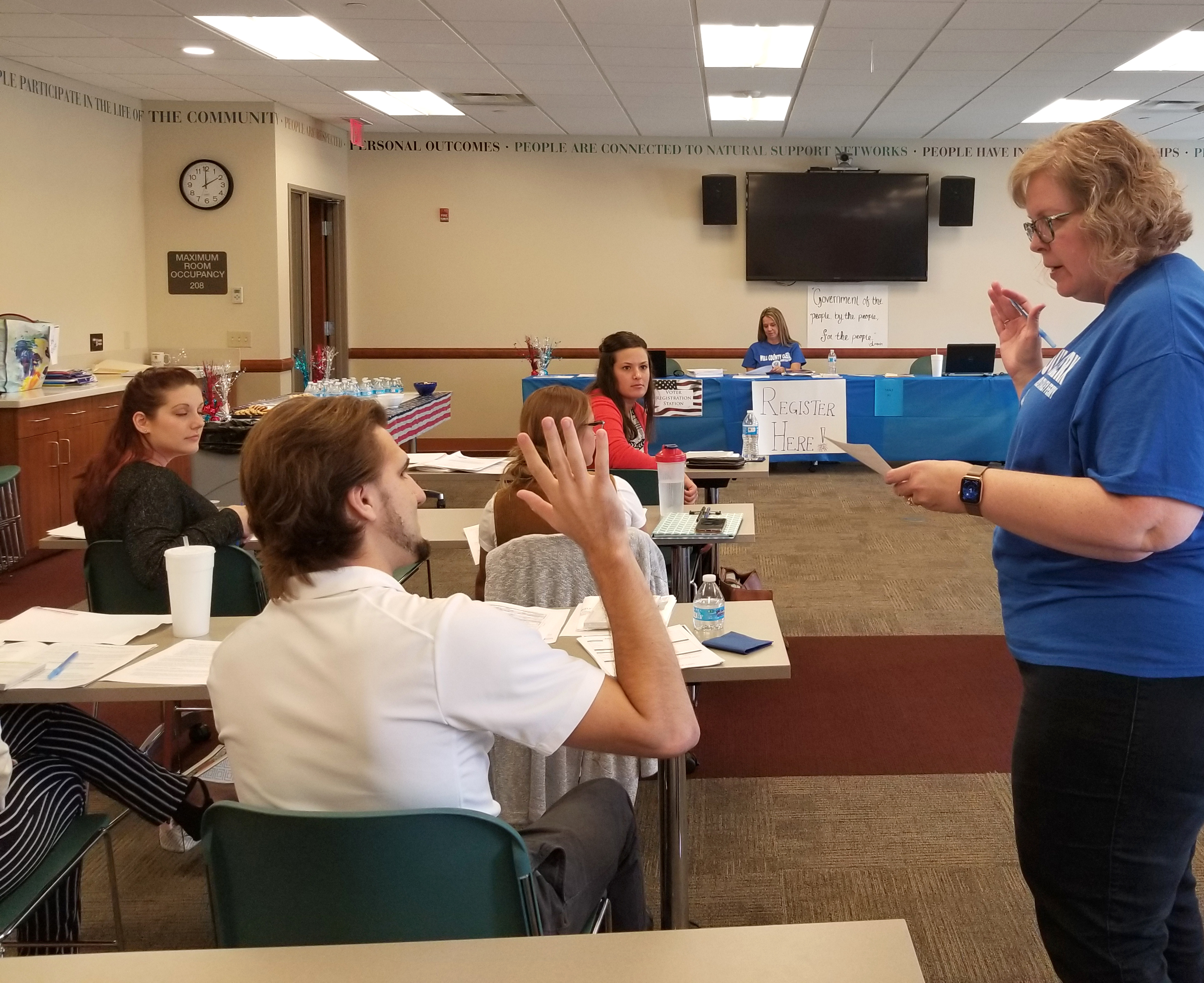 PHOTO CAPTION: Will County Clerk Election Analyst Carol Schneider administers an oath to Trinity Services Qualified Intellectual Disabilities Professional Ben Zibricky Sept. 25 during a registrar training at Trinity Services in New Lenox.
NEW LENOX, IL — Trinity Services, Inc. and the staff from Will County Clerk Lauren Staley Ferry's Office helped people with developmental disabilities understand the power of voting and helped register them to vote Wednesday, Sept. 25, at an educational event at Trinity's central office in New Lenox.
The event was the second time Trinity and the Will County Clerk's Office teamed up, following the success of a National Disability Voter Registration Week Open House in July at which more than 40 people were registered to vote. This event was sponsored by Trinity Services' Advisory Committee, which is composed of people with developmental disabilities who receive support from Trinity.
At the event, people met with Carol Schneider and Chasity Mayes, election analysts at the Will County Clerk's Office. They registered participants to vote in next year's presidential election. Attendees cast votes on practice ballots and participated in a Trinity Services-specific election related to services and supports.
New at this event, Schneider and Mayes trained Trinity Services staff members on how to support people with disabilities to vote. They said the Will County Clerk's Office mails out a Voter Information Guide containing sample ballots to all households with registered voters approximately six weeks before each election. The sample ballots denote which candidates are running for which positions and the referendum questions that will be asked on the actual ballot. Schneider suggested that voters research the candidates and questions to make informed decisions.
Schneider also invited Trinity staff and people receiving support to make use of Early Voting at the Will County Clerk's Office. Early Voting starts at the County Clerk's Office, 302 N. Chicago Street in downtown Joliet. The Clerk's Office is the first location in the county to open for Early Voting 40 days prior to the Election. More than 20 other Early Voting locations open across Will County two weeks prior to the Election.
All Early Voting locations and polling places are equipped with AutoMARK devices, which allow voters to listen to their options, zoom in on their options, and select their choice using a touch screen or hand or foot pedal. Based on the selection, the machine automatically fills in the ballot.
Schneider and Mayes said the Permanently Disabled Vote by Mail Program for people who have a permanent disability offers another option for voters. The program enables them to receive a Vote By Mail ballot for five years.
A handful of Trinity staff members also went through deputy registrar training, meaning they now have the ability to register others to vote.
"A huge thank you to Carol Schneider and Chasity Mayes from the Will County Clerk's Office who spent their day with us," said Jen Klouse, director of admissions for Trinity Services and chairperson of the organization's Advisory Committee. "We loved having them here and look forward to our next event with them in June 2020."
County Clerk Staley Ferry said, "I am proud to have a dedicated team of election analysts who provide information and training to assist voters from every community in casting ballots for upcoming elections to make their voices heard. We look forward to our continuing partnership with Trinity Services."
Trinity Services, Inc. is a 69-year-old, nonsectarian, nonprofit organization dedicated to helping children and adults with developmental disabilities and mental illness flourish and live full and abundant lives. Trinity serves roughly 3,500 people in more than 30 communities in northeast, central and southwest Illinois. To learn more, visit www.trinityservices.org.