View All
News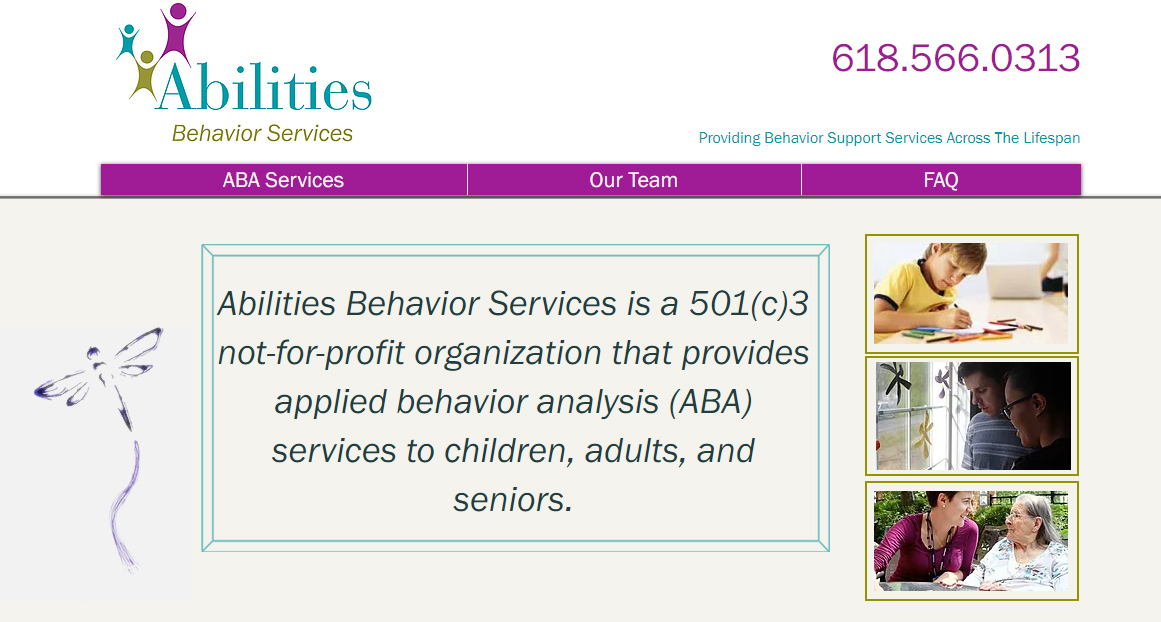 A screenshot shows Abilities Behavior Services' new website, which can be viewed here.
MASCOUTAH, IL — Trinity Services, Inc. is proud to announce that it has expanded its autism and developmental disability supports in Southern Illinois through the opening of Abilities Behavior Services.
For years, Trinity Services has provided ABA services to people in the St. Louis Metro area and Southern Illinois, and this expansion of services will ensure that more people in this region have access to the support they need.
Abilities Behavior Services provides applied behavior analysis (ABA) services to children and adults with developmental disabilities and dual diagnoses of a developmental disability and a mental illness. ABA is a scientific method focused on understanding and improving behavior using evidence-based interventions to increase skills, reduce challenging behavior, and enhance quality of life.
In Mascoutah and Edwardsville, Abilities serves children and adults ages 2-28. Services are provided in clinic, home and community settings. The Mascoutah location also offers a weekly social group, and Edwardsville is beginning social groups for children ages 4-6.
For a person new to Abilities, the organization will provide a free consultation to determine his or her basic needs, concerns and eligibility, and to discuss fees and insurance. From there, the person's caregiver(s) will be interviewed, and Abilities will work with the person and his or her caregiver to develop goals and measurement procedures. Abilities staff will develop a comprehensive plan for the person, conduct collaborative meetings, train the person's caregiver and review progress.
For young children (ages 3 and younger) diagnosed with a developmental delay that affects cognitive, physical, communication, social, emotional or adaptive development, ABA is a highly effective form of early intervention that can improve learning, communication and social skills as the brain continues to develop.
For adults with developmental or intellectual disabilities, ABA helps pinpoint which environmental factors influence behavior for a person, and which skills the person and his or her staff and family members need in order to experience behavior change so the person can reach his or her goals.
"I am excited to continue to provide high-quality ABA services in St. Louis Metro area," said Roma Kline, Board Certified Behavior Analyst and licensed professional counselor. "People with autism face challenges in communication, socialization, and adaptive living skills. At Abilities, we strive to improve daily function in order to increase our program participants' quality of life."
Abilities has sites in Mascoutah and Edwardsville. For more information about Abilities' services for children and adults, call (618) 566-0313.
Abilities Behavior Services is a nonprofit organization that provides behavior analytic services and supports across the lifespan. Abilities works with young children and adults with autism, developmental/intellectual disabilities, and dual diagnoses; and seniors with dementia. Abilities' services have a profound impact on the health and well-being of its clients. Abilities is a division of Trinity Services, Inc. To learn more, visit www.abilities.today.
Trinity Services, Inc. is a 69-year-old, nonsectarian, nonprofit organization dedicated to helping children and adults with developmental disabilities and mental illness flourish and live full and abundant lives. Trinity serves roughly 3,500 people in more than 30 communities in northeast, central and southwest Illinois. To learn more, visit www.trinityservices.org.