View All
News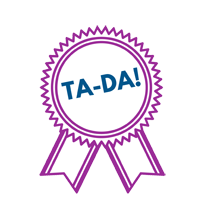 LOCKPORT, IL — A crowd of more than 150 people gathered to celebrate each other's achievements and cheer each other on at Trinity Services Inc.'s inaugural Ta-Da Awards Gala held February 27 at ROXY Special Event Venue in Lockport.
Trinity proudly rejoiced over the many achievements of people with developmental disabilities and mental health needs who receive support from the organization by rolling out the red carpets, serving up the sparkling juice and turning up the fun music at the event.
Guests of honor were men and women who received a Ta-Da Award in 2019. These awards are written for people receiving support from Trinity Services who attain or make progress toward personal goals, improve their health, increase their independence, learn new skills, or show kindness to others. Nominations come from Trinity staff and peers, and are approved by a committee whose members travel to award-winners' homes and programs to present the awards.
The committee is composed of people receiving support from Trinity as well as Trinity staff members. The committee worked to design the Ta-Da Awards from the ground up. The committee's goals are to inspire, empower, encourage and support people.
At Trinity Services, recognition is an essential part of the culture. It is important to celebrate people's achievements, no matter the size or scope, as each achievement is a very personal part of a person's journey.
For example, one man who is passionate about art planned an educational trip to Joliet Junior College to view their art exhibit. He planned this on his own and followed through, asking questions and expressing his thoughts about the artwork.
Another man learned to use self-checkouts at the grocery store independently.
Additionally, one woman chose to open her room and her heart when another person needed respite care. She agreed to share her room for more than a week.
"Out of my almost 15 years at Trinity, the Gala was one of the most memorable, most meaningful experiences I've had the pleasure of being part of," said Jen Klouse, Trinity's Director of Admissions and Ta-Da Committee Chairperson. "I think one of the most important things we can do in life is celebrate each other and do that together.
"My heart was full of joy. There was not a single person in the room that wasn't smiling or laughing or dancing or having fun. That's what life is all about is capturing those moments together and just being in the moment together."
In 2019, 121 Ta-Da Awards were given at Trinity. When these awards are presented, the Ta-Da Committee plays "Celebration" by Kool & The Gang, and walks into a program announcing who they are there to see. When possible, the person who nominated the recipient is present to read the nomination and give the award-winner his or her official Ta-Da certificate. Then, the recipient may choose a prize. The cheers for award-winners during these presentations reverberate throughout the room.
For many people supported by Trinity Services, party invitations and special occasions to dress up are very exciting. The joy that filled the ROXY during the Ta-Da Gala was apparent, as people enjoyed catered food and a bustling dancefloor.
Award-winner Nicole Martin, who received a Ta-Da Award in 2019 for learning to transfer out of her wheelchair independently, said she was so happy to be part of the Ta-Da Gala and grateful to be recognized.
"When a group of people come together and have the same goal in mind, knowing the importance and value of the awards and the Gala, we were able to achieve the success of seeing people experience a joy that is difficult to capture in words," Klouse said.
Klouse said she was grateful for the committee members, volunteers and staff members who made the awards possible throughout 2019 and ensured the success of the Gala.
"My hope is that we will continue to have so many Ta-Das that we will need a venue twice as big next year," she said. "I hope each of us continues to take time to recognize those meaningful moments with the people we serve and celebrate them, and that we continue to help them achieve the goals and experiences that are meaningful to them."
Trinity Services, Inc. is a 69-year-old, nonsectarian, nonprofit organization dedicated to helping children and adults with developmental disabilities and mental illness flourish and live full and abundant lives. Trinity serves roughly 4,000 people in more than 30 communities in northeast, central and southwest Illinois. To learn more, visit www.trinityservices.org.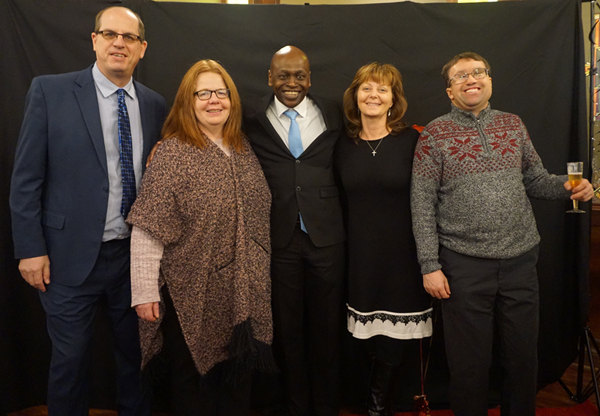 Ta-Da Award winners Tim Gunter (center) and Greg Wettour (far right) take a photo with, left to right, Trinity Services President and CEO Thane Dykstra, Ph.D., Trinity Residential Network III Director Mickey Gossen, and Trinity COO Tina Fogarty.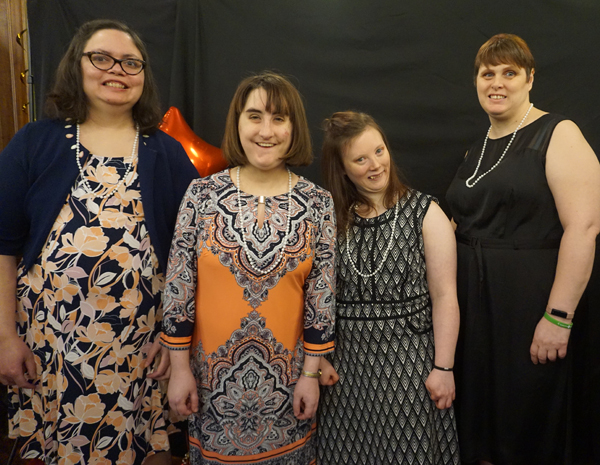 Ta-Da Committee Member Kara Szurgot (second from left) takes a photo with award winners (left to right) Anna Rezek, Tanya Beaudry and Kim Raymond.