View All
News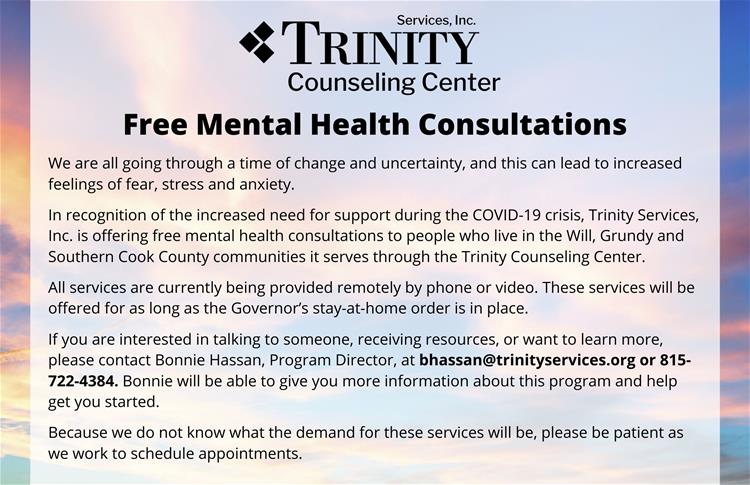 NEW LENOX, IL — Trinity Services' Trinity Counseling Center is offering free mental health consultations to people in its coverage area in Will, Grundy and Southern Cook Counties during the COVID-19 pandemic.
In times of change and uncertainty, feelings of fear, stress and anxiety can increase and potentially become difficult to manage.
In recognition of the increased need for support during the COVID-19 crisis, Trinity Services and the Trinity Counseling Center want to help.
"We are offering these services because we recognize that this situation is difficult and scary," said Bonnie Hassan, director of the Trinity Counseling Center. "As a result, many people are feeling increased stress, fear and anxiety. Providing for the mental health needs of our community and increasing people's connection to needed resources is an important part of the work we do."
These free consultations are being provided remotely by phone or video, and they will be offered as long as Governor J.B. Pritzker's stay-at-home order is in place.
If you are interested in talking to someone, receiving resources, or learning more,
please contact Hassan at bhassan@trinityservices.org or 815-722-4384. She can provide more information about this program and help initiate the consultations.
"If someone is nervous about reaching out, they can expect a safe place where they can share thoughts and feelings confidentially, receive support and access resources," Hassan said.
Because the Trinity Counseling Center does not know what the demand for these services will be, its staff ask that interested members of the public be patient as they work to schedule appointments.
Trinity Services, Inc. is a 70-year-old, nonsectarian, nonprofit organization dedicated to helping children and adults with developmental disabilities and mental illness flourish and live full and abundant lives. Trinity serves roughly 4,000 people in more than 30 communities in northeast, central and southwest Illinois. To learn more, visit www.trinityservices.org.