View All
News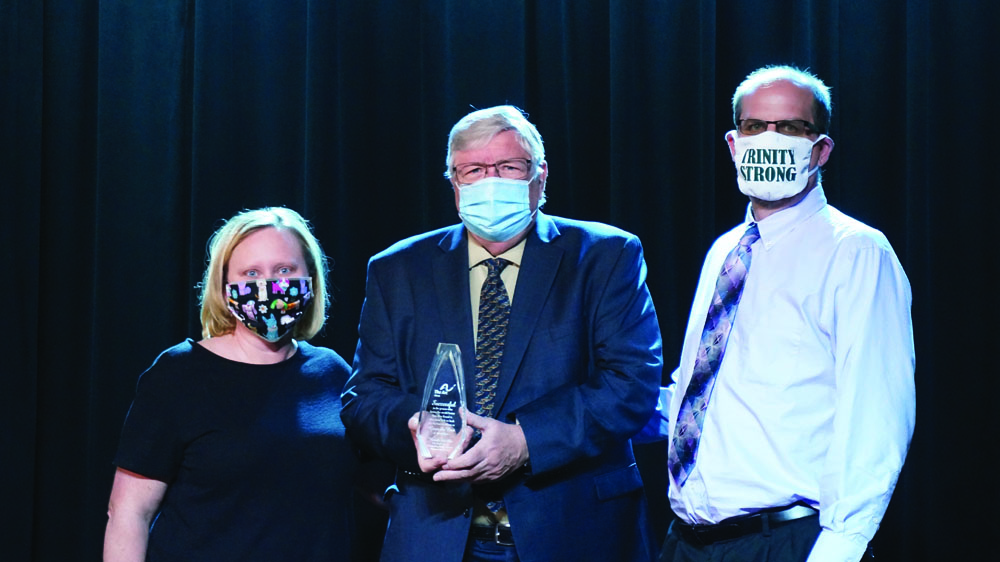 PHOTO CAPTION: Trinity Services parent and Board Member Ron Stricklin (center) holds his award alongside Trinity Northwest Residential Director Jen Hodges (left) and Trinity President and CEO Thane Dykstra, Ph.D.
DES PLAINES, IL — Trinity Services, Inc. is proud to announce that Ron Stricklin, a member of the Trinity Services Board of Directors and parent of a son supported by Trinity, received the Outstanding Family Member Advocate Award from The Arc of Illinois.
This award is given to family members who actively devote time and energy to enhance the life experience for their family member and all people with developmental disabilities. Stricklin has done this through years of advocacy and volunteer work. The award was presented to Stricklin virtually on June 11 during The Arc of Illinois' 70th Annual Convention.
Jen Hodges, director of Trinity's Residential Network VII in the Des Plaines area, has known Stricklin for years and wrote his nomination. She said he has been a tireless advocate for people with intellectual and developmental disabilities since he learned his son was diagnosed with a rare disorder called Char syndrome.
"He helped his son move into his current home in 2005, is an active member of the fundraising team, advocates at the State level, serves as a Board member and is a lead member of the Parent Advisory Committee," Hodges said. "He sees his path as not only advocating for his own son but for all people with disabilities."
Stricklin has spent hours writing letters to legislators and visiting their offices, even when they openly disagree with legislation that would help people with disabilities. He also raises funds for and donates to help people supported by Trinity take part in events and activities regardless of their financial situation.
"He has a heart of gold that radiates through all of his efforts for people with disabilities," Hodges said. "Trinity and The Arc are excited to present Ron with the award for Outstanding Family Member Advocate."
"I want to thank The Arc of Illinois for awarding me this wonderful award," Stricklin said. "I am honored to do the work and honored to be affiliated with Trinity Services and the good work they do."
Trinity Services, Inc. is a 70-year-old, nonsectarian, nonprofit organization dedicated to helping children and adults with developmental disabilities and mental illness flourish and live full and abundant lives. Trinity serves roughly 3,500 people in more than 30 communities in northeast, central and southwest Illinois. To learn more, visit www.trinityservices.org.