View All
News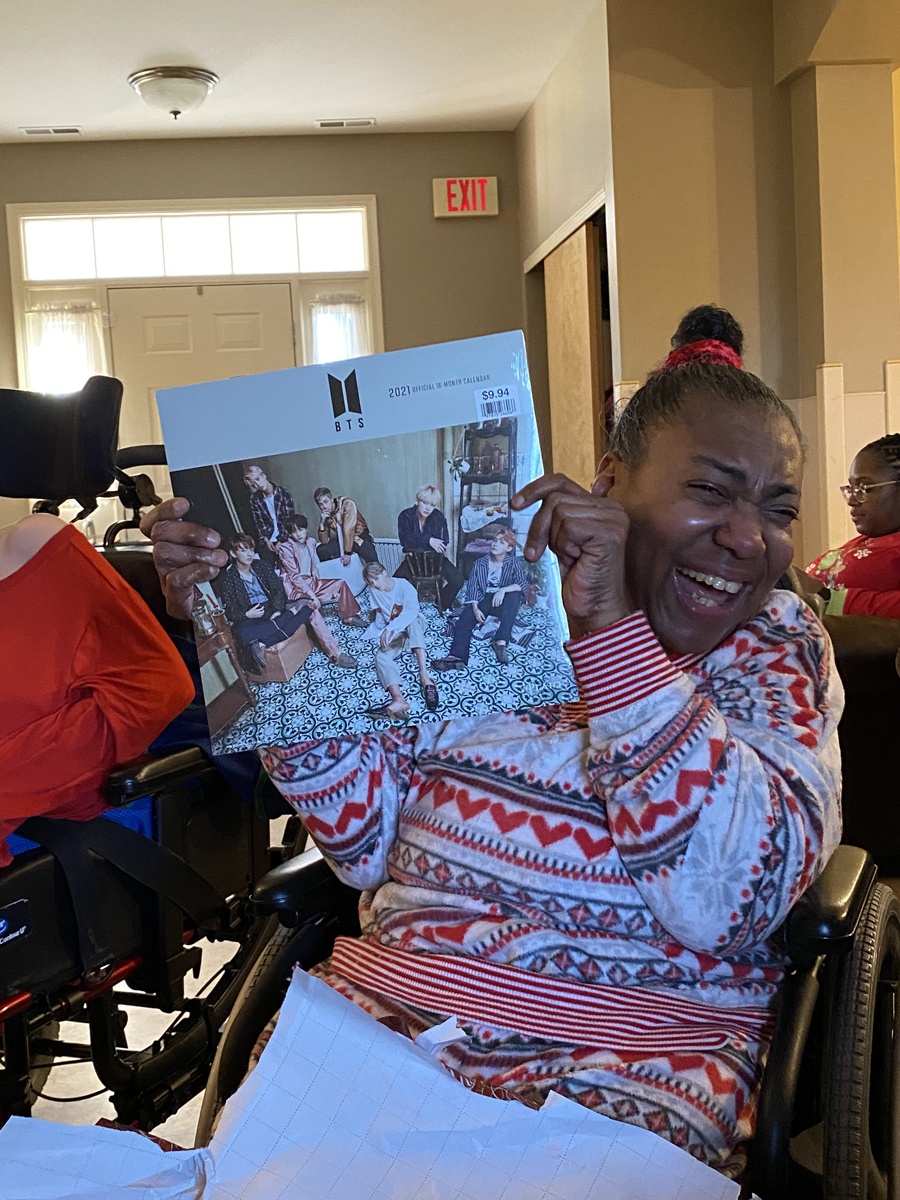 Photo Caption: Phillipa, who receives support from Trinity's Residential Network III, smiles with a BTS calendar she received on Christmas morning at her home in Joliet.
Trinity Services donors check off holiday wish lists of roughly 400 people with disabilities throughout Illinois
ILLINOIS — Approximately 400 people with developmental disabilities and mental illness had their holiday wish lists checked off this year thanks to the generosity of others through Trinity Services' Giving Tree Program.
This was the first year Trinity Services created this program for people the organization supports to create wish lists of items they wanted for the holidays.
Some people who receive support from Trinity do not have contact with family members or have no living family members, and many do not have the financial means to buy themselves things they want for the holidays. Additionally, people who are supported by Trinity's Homeless Support Program may be moving into homes of their own for the first time or starting over and in need of household items.
When Trinity put out the call for donors to shop for items on people's wish lists, the response was overwhelming. All wish lists were claimed, meaning everyone who submitted a wish list had their holiday wishes come true this year thanks to the generosity of strangers.
"I chose to participate in the Giving Tree at Trinity because I felt I really needed to make someone's holiday great," said 11-year-old New Lenox resident Kenny Bodzianowski, Jr., who used his own money to sponsor someone. "It feels really fantastic to know that someone will be happy this year even with all of the crazy stuff going on in the world right now."
People from all over Illinois, as well as people from out of state, donated items to help make people's holidays special. People Trinity supports from the Joliet, New Lenox, Wilmington, Des Plaines and northern Chicago areas received gifts.
"I chose to participate because I am thankful and blessed by all the support my family gets caring for our special needs son, so I know how hard it can be at times," Mokena resident Tessa Quinlan said. "This is my way of giving back to a community that I know supports those like my son. It is humbling and heartwarming to me to know our family's support can make a small difference in someone else's life. I know no matter how big or small the support is, what it really means is that somebody cares."
As people opened their gifts over the holidays, smiles and joy radiated, bringing some momentary relief to a year that was overshadowed by the pandemic.
"We want to express our sincere gratitude for every single person who participated in our Giving Tree Program this year," said Thane Dykstra, Ph.D., president and CEO of Trinity. "I know this was not an easy year for anyone, and people who stepped up to help others despite this are so selfless and giving. Thank you for bringing joy to the people Trinity supports."
Though the Giving Tree Program has come to a close for this year, there are still ways to support people Trinity serves. Trinity is selling 2021 wall calendars featuring original artwork made by people Trinity supports at www.trinityservices.org/calendar.
Trinity Services, Inc. is a 70-year-old, nonsectarian, nonprofit organization dedicated to helping children and adults with developmental disabilities and mental illness flourish and live full and abundant lives. Trinity serves roughly 3,500 people in more than 30 communities in northeast, central and southwest Illinois. To learn more, visit www.trinityservices.org.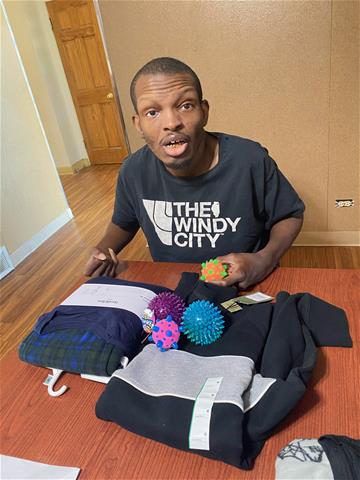 Josh, who receives support from Trinity's Residential Network III, opens his gifts on Christmas morning at his home in Crete.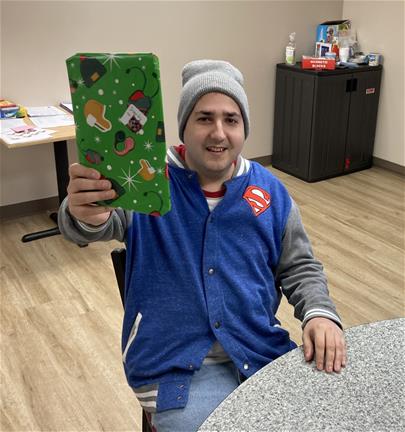 Marty, who receives support from Trinity Services' Residential Network II, in Wilmington, holds up a gift he received through the Giving Tree Program.