View All
News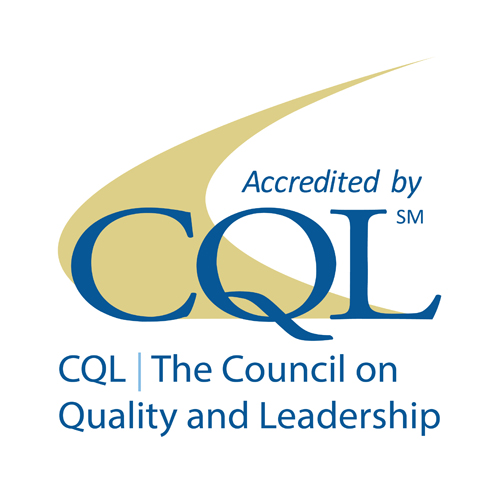 NEW LENOX, IL — Trinity Services, Inc. is proud to announce today that the organization achieved the highest possible level of accreditation from The Council on Quality and Leadership (CQL).
Trinity Services earned the four-year Person-Centered Excellence Accreditation, With Distinction, which confirms that Trinity embraces person-centered solutions to improve the quality of life for people receiving supports and services. Trinity's mission is to help people with developmental disabilities and mental illness flourish so that they may live full, abundant lives.
Trinity has proudly maintained this level of accreditation from CQL since 1992. The accreditation with distinction is awarded to fewer than 1 percent of organizations accredited by CQL, and Trinity is the first organization in Illinois to qualify for this level of accreditation under CQL's recently updated standards.
When Trinity Services partnered with CQL to pursue accreditation, it undertook a rigorous process to review and improve supports and services. The efforts of Trinity were focused on empowering the people who receive supports to pursue what really matters in their lives and achieve their personally defined outcomes.
The accreditation process involved planning meetings, self-assessments, virtual site visits, evaluations of Trinity's systems and practices, interviews with people receiving services from Trinity, focus groups, a stakeholder meeting, and data collection and analysis. Additionally, receiving this four-year accreditation means Trinity can benefit from ongoing support from CQL.
"I am incredibly proud of Trinity Services staff members for their work to ensure that everyone they support is living a full, abundant life in which they may achieve outcomes that many people without disabilities may take for granted," said Raymond McShane, chairperson of Trinity's Board of Directors. "I am particularly proud of staff members for upholding Trinity's high quality of services and supports throughout the intense challenges of the pandemic. This accreditation helps us understand what we're doing well and highlights opportunities for growth."
Trinity was awarded CQL accreditation as a result of demonstrating proficiency in the following areas:
Basic Assurances ®
Ensuring fundamental safeguards related to health, safety and human security


Personal Outcome Measures ®
Supporting and empowering people to achieve their goals and dreams


Person-Centered Excellence
Demonstrating organizational commitment to continued enhancement of systems
Trinity Services prides itself on having a philosophy of "Everything Counts", meaning that every action and interaction is significant and can have a lasting impact in the life of someone receiving services.
"I want to thank and recognize all family members, board members, staff, people we support and community partners who volunteered their valuable time, feedback and ideas during the accreditation process," said Thane Dykstra, Ph.D., president and CEO of Trinity Services. "Thank you for helping to make this process a success. We should all be proud of this collective effort."
The accreditation process resulted in a shared plan of action that Trinity will carry out over the course of the four-year accreditation period. At several points, various reports and data will be shared with CQL to measure progress.
"CQL commends Trinity Services for its success in increasing the quality of life for the people it supports," said Mary Kay Rizzolo, president and CEO of CQL. "We are pleased to partner with them on this journey of ongoing organizational transformation."
CQL | The Council on Quality and Leadership is an international nonprofit, virtual organization dedicated to the definition, measurement and improvement of personal quality of life. CQL's vision is a world of dignity, opportunity and community for all people. Learn more about CQL by visiting: www.c-q-l.org.
Trinity Services, Inc. is a 71-year-old, nonsectarian, nonprofit organization dedicated to helping children and adults with developmental disabilities and mental illness flourish and live full and abundant lives. Trinity serves roughly 5,500 people in more than 30 communities in northeast, central and southwest Illinois.