View All
News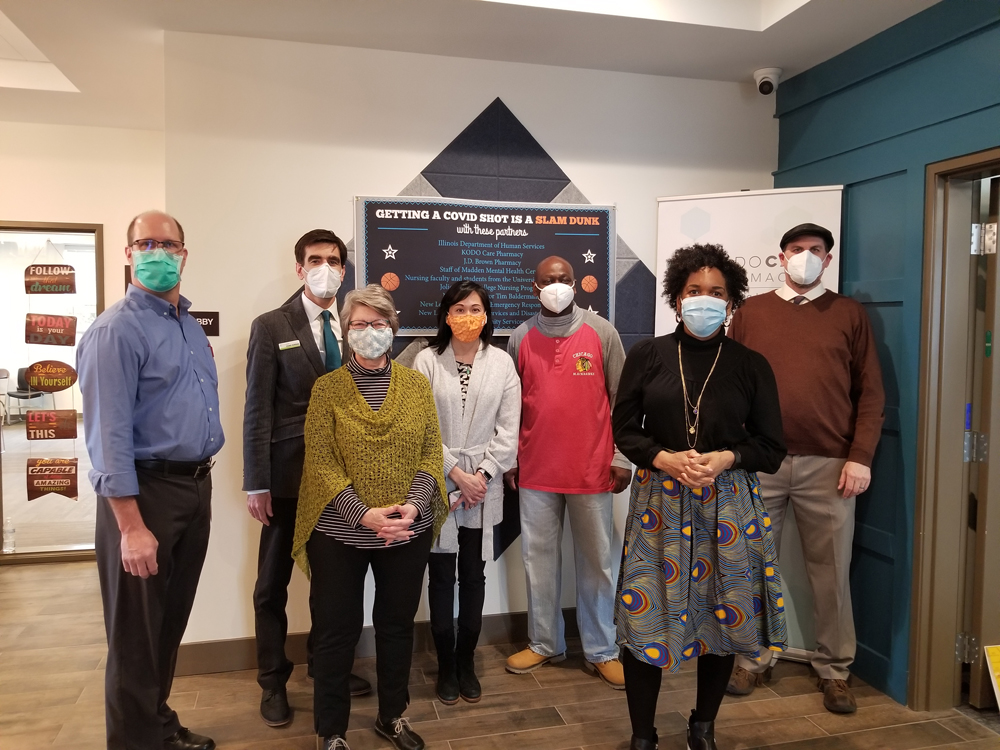 Photo caption: Illinois Lt. Governor Juliana Stratton (second from right) and Secretary of the Illinois Department of Human Services Grace Hou (fourth from right) visit with (from left to right) Jim Pritz, of J.D. Brown Pharmacy; Chad Kodiak, of KODO Care Pharmacy; Carolyn Cochran Kopel, of IDHS; and Tim Gunter and Thane Dykstra, of Trinity Services, March 18 during a vaccination clinic in New Lenox.
Trinity Services teams up with Illinois Department of Human Services, community partners to provide vaccination clinics for people with disabilities, their support staff
Lt. Governor, IDHS Secretary visit clinic to thank volunteers, support vaccination efforts
More than 650 Chicagoland residents with developmental disabilities and staff members who support them are fully vaccinated against COVID-19 thanks to a partnership between the Illinois Department of Human Services, Trinity Services, Inc., and neighboring community organizations.
People with developmental disabilities are among the most at-risk for developing severe symptoms from COVID-19. Staff members who provide their direct care are also vulnerable to the coronavirus, as their jobs helping people with daily life skills do not allow for social distancing.
From the moment vaccines became available, the State of Illinois and the Illinois Department of Human Services worked to prioritize people with developmental disabilities and staff members who help support them for these lifesaving shots.
IDHS worked with Trinity and partner organizations to offer four COVID-19 vaccination clinics for approximately 22 Chicagoland organizations that were previously unable to gain access to vaccines. The clinics were made possible with help from KODO Care Pharmacy, J.D. Brown Pharmacy, staff of Madden Mental Health Center, nursing faculty and students from the University of St. Francis and Joliet Junior College, New Lenox Mayor Tim Baldermann, the New Lenox Community Emergency Response Team, the New Lenox Emergency Services and Disaster Agency, and Trinity Services staff members.
Lt. Governor Juliana Stratton and Secretary Hou attended a vaccination clinic Thursday, March 18, and conveyed their gratitude to all who made the clinics possible.
"We tried to identify people who were unable to get the vaccine elsewhere and ensure they had the opportunity to receive it," said Grace Hou, Secretary of the Illinois Department of Human Services. "We wanted to remove roadblocks and make this process as easy as possible so people could be protected from the harms of the coronavirus. I want to thank all who came together to make these clinics possible and Lt. Governor Stratton for her support of this amazing effort."
Trinity provided these clinics at the site of its forthcoming permanent supportive housing apartment complex in New Lenox, which will provide people with disabilities with homes in which they can live as independently as possible.
"The teamwork and communication that was displayed during these clinics was awe-inspiring," said Thane Dykstra, Ph.D., President and CEO of Trinity Services. "We are grateful to have been part of the initiative to ensure more people with disabilities and the heroic health care workers who support them received protection from COVID-19. We are equally grateful to be surrounded by so many caring, committed, talented people from partner organizations. These were, undoubtedly, lifesaving clinics."
Pharmacist Chad Kodiak, of KODO Care Pharmacy, added of the first vaccination clinic, "I'm having a hard time thinking of a time in my life where a single event has had such a positive impact on so many people. To think that we vaccinated over 338 people in one day with less than one week's notice is truly remarkable. The KODO Care Pharmacy Team was humbled to be a part of this event."
Mel Tadesse, with Access Community Experience, Inc., and Matthew Lipman, with Kin Care, Inc., both said the clinics were very professional, efficient and accessible. Access had 17 people vaccinated, and Kin Care had 8 people vaccinated.
"Carolyn Cochran Kopel [from IDHS] and Jim Pritz [from J.D. Brown Pharmacy] got to know the names of the people we support individually," Tadesse said. "What impressed me is from the moment we drove up, we could tell there was enough staff, and everyone was on the same page about what needed to be done. Everyone was very friendly and treated people with compassion and understanding, without being condescending."
"Everything was set up beautifully and went very smooth," Lipman said. "We're thankful we were able to get everyone vaccinated. One person we support hates needles, and they were so accommodating."
Trinity Services, Inc. is a 71-year-old, nonsectarian, nonprofit organization dedicated to helping children and adults with developmental disabilities and mental illness flourish and live full and abundant lives. Trinity serves roughly 5,500 people in more than 30 communities in northeast, central and southwest Illinois.