View All
From My Pad to Yours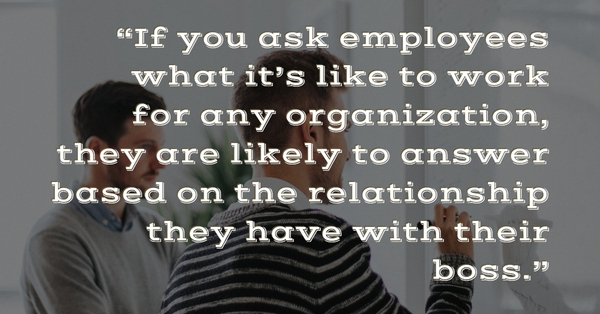 If you ask employees what it's like to work for any organization, they are likely to answer based on the relationship they have with their boss. That is a fact of life. "This place sucks—no one ever knows what's going on. All they do is take advantage of you. They never help you out when you're hurting. No one tells you anything."
Of course, the likelihood of positive feelings and experiences are also possible. "It's a great place to work. I'm trying to get my sister a job here." In other words, the manager-employee relationship creates the lens through which the employee views the organization.
Some time ago, I came across the term, "vertical couple." Coined by Daniel Goleman, it describes the relationship we have with those who report to us, and to those to whom we report. Goleman states, "It's the single most important social bond we develop at work." His research indicates that the strength of the bond between manager and employee is the prime predictor of daily production and the length of time people stay at their jobs.
Unfortunately, it is not uncommon for first-line managers to take the position without any essential training or chance to practice. Frequently, they are tossed onto the playing field and before too long, when difficulties arise, resort to giving orders on the one hand or doing the work themselves on the other. Management training, therefore, becomes a high priority in organizations pursuing high quality service delivery.
How then does a manager develop that strong bond with his or her team members? Some of the most important actions to be taken include the following.
Communicate face-to-face. While email and phone conversations are often easier, speaking with employees face-to-face offers greater benefits. A manager who takes the time to communicate in person makes a statement about the value he or she places on the relationship with the employee. In addition, both parties in the conversation learn a great deal more from each other as they connect facial expressions, tone of voice and gestures with the words spoken. Furthermore, any positive interaction—be it a passing "Good morning," or a lengthier interaction in a more formal setting—triggers the release of dopamine, which literally makes learning easier.
Listen actively. Managers who listen carefully and ask questions develop stronger relationships with their employees. Learning about an employee's responses to job requirements, suggestions for improving processes, and assessment of relational dynamics in the workplace offers a supervisor not only insight into the person's character and abilities, but also ideas that might enhance team performance and/or culture.
Show interest in employees' personal lives. Keeping up with an employee's family and personal interests cements positive connections even further. Captain Michael Abrashoff, well known for having transformed the worst performing Navy crew into the top performer, attributed some of his success to learning the names of the sailors' family members and making a point to ask about them when he spoke with the crew members. Employees appreciate knowing that they are regarded as valued individuals rather than simply cogs in the company machine.
Be honest. No relationship is stable without trust. Teams in which managers and members work together efficiently is inevitably characterized by honesty. Being able to count on the veracity of any information shared prevents mistakes, misunderstandings and energy-depleting conflicts.
Always follow through. As an outgrowth of honesty, a manager's commitment to follow through lets employees know that plans and promises require action. Consistent, appropriate action builds bedrock trust while encouraging accountability and establishing a stable environment that promotes high performance.
Express appreciation. Acknowledging the contributions of employees also demonstrates how much a manager values the team members. Appreciation can be communicated with a verbal "Thank you," an award, a written note or a public announcement. The most effective form of recognition is one that an employee finds most rewarding.
As Goleman reminds us, the manager-employee connection is the basic unit of organizational life. Therefore, the message is clear: we need to prize and prioritize our relationships.