View All
DSPs Are Heroes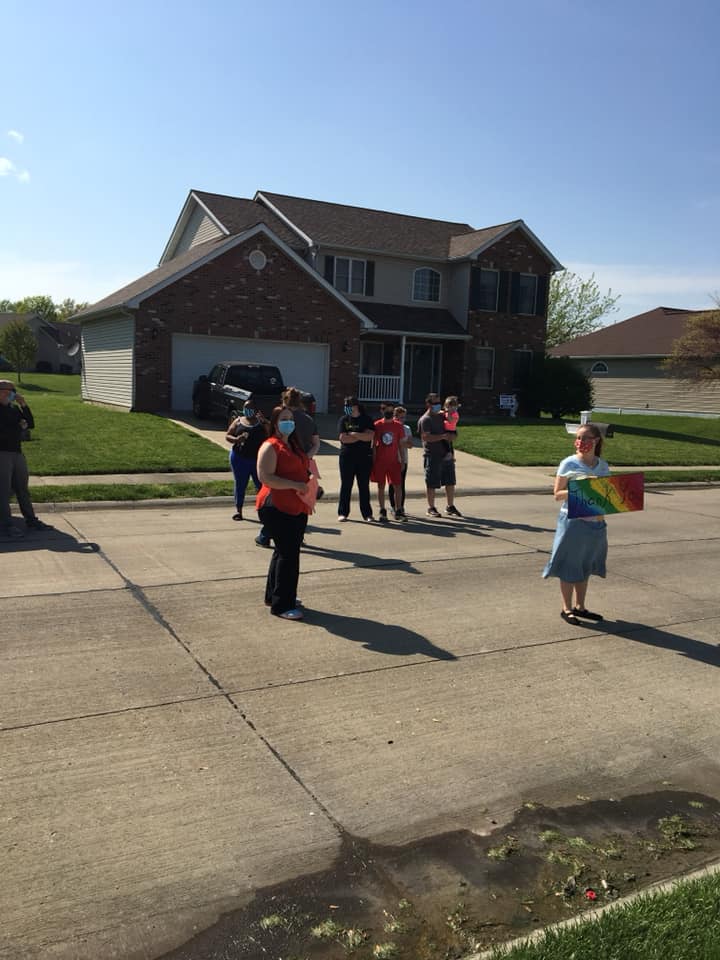 PHOTO CAPTION: Friends, family and colleagues of Trinity Services Direct Support Professionals Michaela Atchie and Adam Arthur cheer them on after they end a 30-day shift at a group home in Mascoutah, Illinois.
Staff continue to report to front lines of COVID-19 crisis despite opportunities for higher pay elsewhere
ILLINOIS — When the harsh realities of the COVID-19 pandemic began to hit home in Illinois, Trinity Services staff members did not shy away from the challenge.
They read the same news articles, saw the same posts and pictures circulating on social media, and faced many of the same fears that most people did. Yet, they came to work, and they continue to come in, with the mission of helping people with developmental disabilities and mental illness flourish and live full and abundant lives. Approximately 120 workers, in fact, have moved into Trinity's group homes to keep program participants safe.
Making sacrifices for the people they support
Approximately 120 of Trinity Services' direct support professionals (DSPs) who care for people with developmental disabilities made the selfless choice to move into community-integrated living arrangements (CILAs), or group homes, during the COVID-19 pandemic to shelter in-place there and continue to care for the people they support. In doing this, they are providing the greatest amount of protection possible to 51, or just more than half, of Trinity's residential locations and about 300 people who live in these homes.
That is more than 120 DSPs who sacrificed going home to their loved ones and so many of the small joys and freedoms that come with being in one's own home. They decided to put the people they support first to ensure that, with the elimination of staff shift changes, the people they support are as safe as possible.
Some of these staff members made the decision to stay in-place at homes where people had fevers. They knew the risk of the decisions they were making, and yet, they still chose to step in and step up. They were needed, and they answered the call.
Some of these staff members struggled with missing their loved ones, overcoming their fears of COVID-19 and even enduring the loss of loved ones during their shelter in-place commitments. Still, they stayed.
DSPs are essential workers. They are unsung health care heroes on the front lines, providing around-the-clock care for people with disabilities and mental illness. Many of the people they support have preexisting medical conditions, putting those people at a higher risk of severe complications should they contract COVID-19. DSPs know this. They know that there is a worst-case scenario threatening to take the lives of people they care for and love, and they do everything they can to protect the people they support.
Bryce Kirwan and Steven Linton are just two front-line staff members at Trinity Services who volunteered to shelter in-place at one of Trinity's group homes in Manhattan, Illinois. Kirwan and Linton acknowledged that they did have fears about COVID-19 when they started to hear more about the disease, but on April 4 and 5, respectively, after considering the decision, both made the commitment to shelter in-place for the rest of the month. Their decision came immediately after, on April 3, one of the home's residents tested positive for COVID-19 and went to the hospital for medical care.
Both Kirwan and Linton knew there were risks involved with going to work and live at a home where someone had the virus. Kirwan worked with the gentleman who was ill for a week prior to moving in.
"It was something I wanted to do," Kirwan said. "It was easy for me to say 'yes.' It was a great sacrifice. I knew for the next 30 days, my life wasn't going to be the same at all. Everything would be different. I did my best to stay positive and optimistic. I knew that's what it would take to get through this. I packed without thinking about it too much. I knew this was what I wanted to do, and I just did it."
Linton, who has exercise-induced asthma, said he talked to his parents and his three roommates to weigh his options and talk through the risks before making a decision.
"I can't say I wasn't fearful," he said. "I read about how detrimental the virus is. I decided the attention it is getting is very important, but I can't keep living my life in fear. I have to go on and wake up and figure out what I'm doing each day. I decided this was an opportunity for me. I think I'm blessed, and God watches over me, so I wasn't too worried about it."
Both Kirwan and Linton said they rely on each other and on the five men they support to get through the difficulties of the pandemic together. Each day, they eat meals together, do activities together, spend time outside when possible, watch TV and spend some time to themselves. Fortunately, none of the men have shown symptoms of the coronavirus.
"I just knew that any time I spent giving into the fear would hold me back in the long run," Kirwan said. "I tried to keep my mind on the positive stuff and focusing on things I could control. I knew all we need is time here. If we can focus on what we can do every day and slow down and take time, we're going to make it out of this just fine."
Latoria Belcher and Michael Davis are two more staff members who decided to shelter in-place at a group home in Elk Grove Village. They began their stay at the end of March.
No one in the home they work at has tested positive, and the pair want to keep it that way. They both said they are afraid of contracting the coronavirus or passing it on to their family members, friends or the people they support. That is the main reason both decided to shelter in-place at the house.
"The guys get the concept about the coronavirus," Belcher said. "We watch the news a bit, but it's kind of sad. We say there are germs outside, and we're more protected in the house right now."
Davis added that one of the men he supports frequently asks about the number of people who are infected with the virus and the number of lives lost.
"It's a fine line of trying to be truthful but also not to worry them about what's going on," he said. "For me, I'm glad we're doing the stay. We don't have to worry about things like going to the gas station. This, being here with the guys, is safer for us and for the guys."
"It's more of a protection," Belcher added. "You're not coming into contact with the outside world, and your family is safe, too."
Belcher has a 17-year-old daughter whom she is missing spending time with, and she also misses her mother and her dog. Davis is single and has no pets at home. He said he looked at sheltering-in-place as an obligation to help out his coworkers and the people he supports.
Both Belcher and Davis said the most difficult adjustment to make was getting used to giving up their sense of independence by moving in. But, as Davis put it, there's nothing you can't do on Zoom.
"I'm glad someone is here with me," Belcher said. "Two staff is better, because it's us getting to know each other. I normally work in Community Day Services, and Michael works in residential. We got to learn each other's jobs and got to know each other on a more personal level."
Getting the job done with both hands tied
When Trinity Services and most other providers of developmental disability support services entered the COVID-19 crisis, they did so with both hands tied behind their backs.
For more than a decade, Illinois' reimbursement levels for direct support professional wages have not kept up with the cost of living and have remained at or barely above minimum wage. On average, DSPs in Illinois earn $13 an hour. When Amazon warehouse workers can start at $15 an hour, and U.S. Census workers in Cook County can earn around $27 an hour, Trinity Services struggles to attract and keep staff members.
The extremely essential work of providing care for people with disabilities — for some, to meet their most basic human needs — is reimbursed at just $13 an hour. This still falls below the living wage of $13.60 for a single adult in Will County, where most of Trinity Services' residential sites are located. However, many DSPs are single mothers working to provide for their families. That living wage is $27.39 for one adult and one child, according to the Massachusetts Institute of Technology's Living Wage Calculator.
Trinity Services was operating at a deficit of 20 percent of the direct support staff it needed when it entered this crisis. It is difficult to respond to a crisis situation without a full workforce, but luckily, Trinity's staff members are extremely dedicated to the people they support. Of its roughly 1,000 staff members, just 51 people took leaves of absence since the pandemic began.
Additionally, as did many hospitals, nursing homes and care facilities, providers of developmental disability services faced a severe shortage of personal protective equipment entering the pandemic.
Trinity Services is grateful to Governor J.B. Pritzker's administration, including Department of Human Services Secretary Grace Hou, for their strong leadership throughout this crisis in working to respond to the need that Trinity Services and so many other organizations face. Despite their efforts, Trinity still struggled to obtain all of the resources it needed in a timely manner given the national shortage of essential supplies.
Trinity's ability to quickly implement its "stay-in-place" staffing model was facilitated by its strong working relationship with the leadership team of the American Federation of State, County, and Municipal Employees (AFSCME Council 31, Local 2690). In addition, to support DSPs who embraced this model, Trinity appreciated the collaboration and open dialogue with AFSCME Council 31, Local 2690 President Roosevelt Journigan and the entire Local 2690 executive board, as well as Kevin Watson, AFSCME staff representative, and Anne Irving, regional director.
The true value of direct support
As the people of Illinois and people around the world continue to fight through the pandemic, the economic fallout may leave DSPs in the dust, similar to what happened during and after the Great Recession in 2008. This cannot happen again. DSPs are essential workers in essential roles that will always be needed. They make it their duty to care for some of society's most vulnerable members, and yet the pay they receive is nowhere near commensurate.
"People need to understand the value of DSPs," said Thane Dykstra, Ph.D., Trinity Services' president and CEO. "They are invaluable health care workers. They just happen to be the most underpaid health care workers, unfortunately."
Dykstra described the crisis and the loss of life that is occurring with it as the worst thing that could happen for community providers and their staff members.
"Providers are doing their best to keep people healthy and happy," he said. "Staff members in care roles throughout the state, at nursing homes, state-operated developmental centers, care facilities, and community provider organizations like Trinity are exhibiting heroic efforts every day for the people they support. The pain and loss that is occurring when someone is lost to COVID-19 is devastating regardless of the setting."
Most of Trinity's staff members have had to work through some anxiety or fear, but they continue to rise to the occasion and show heroism in the face of a difficult, scary situation.
"Staff are showing their love for the people they support," Dykstra said. "My use of the word love is intentional and the best choice when you see the attitude and self-sacrifice and heroism of staff. I think it just points to what our staff think is important and why they have risen to the tremendous challenge presented by this crisis."
When Trinity's Community Day Services programs, also known as day programs, had to temporarily close starting in March because of the pandemic, day program staff members stayed flexible and did not hesitate to begin working in the homes. Direct support staff members walk people through structured activities that are created weekly by a hardworking team, and delivered by Trinity's transportation staff. They help people work through difficult emotions spurred by the pandemic and the change in routine. They also help people stay connected to their families and friends via video conferencing.
Aside from direct support staff members, Trinity staff members in other areas of the organization have stepped up to the challenges of the pandemic.
Staff from the Trinity Counseling Center, led by Bonnie Hassan, are providing free mental health consultations to members of the local community via phone and video calls. Staff from Trinity's school program offered child care services to children of direct support staff. Administrative staff learned how to make masks for their direct support colleagues and made thousands over the course of a few weeks. Trinity's Homeless Support Program, led by Sandy Metroz, continues to provide housing to families in need, as well as survivors of domestic violence, as there is a great need during the pandemic. Staff members on Trinity's Illinois Crisis Prevention Network team, led by Kim Shontz, prepared an internal site for emergency sheltering for use by other organizations. Fortunately, this resource has not been needed.
"It's really brought out the best in people," Dykstra said. "Some of our program participants have communicated how appreciative they are of all that staff members are doing to keep them safe. There's no doubt that this is an unpresented crisis, and starting with two hands tied behind our back, we're still fulfilling our mission – helping people flourish and have full and abundant lives. As CEO, I could not be more proud of our staff. There are too many heroes to list. Those individuals providing direct supports at Trinity and other organizations, are superheroes."
Two bills introduced in the Illinois General Assembly, Senate Bill 3269 and House Bill 5074, would provide a comprehensive solution to the ongoing staffing crisis that Trinity Services and other providers of developmental disability services in Illinois continue to face. These bills would raise DSP wage reimbursements permanently at least 145 percent above the highest statewide, regional or local minimum wage rate, whichever is higher.
Now, more than ever, it is imperative that DSPs are paid the wages they deserve. They and the people they support deserve so much more.
Trinity Services, Inc. is a 70-year-old, nonsectarian, nonprofit organization dedicated to helping children and adults with developmental disabilities and mental illness flourish and live full and abundant lives. Trinity serves roughly 3,500 people in more than 30 communities in northeast, central and southwest Illinois. To learn more, visit www.trinityservices.org.