Trinity Services' leadership staff, also referred to as the Executive Committee, provide direction and support to the Trinity community. Leadership staff members meet once a week to keep the organization closely interconnected and ensure its mission is consistently carried out.

Leadership staff who compose the Executive Committee are listed below.
View All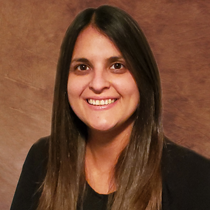 Liane Lopez, Psy.D.
Director of Network IV (Behavioral Health Services)
Liane serves as the director of Network IV, which encompasses all of Trinity's Behavioral Health services, including residential services, psychosocial rehabilitation programs, Community Support Teams and permanent supportive housing.
Liane completed her master's practicum at Trinity Services in 2010 at the Glenwood Psychosocial Rehabilitation Program (PSR). She returned in 2014 to complete her postdoctoral fellowship at Hoff PSR and was hired as a therapist at the program in 2015. In 2016, Liane became director of Hoff PSR and was promoted to associate clinical director in 2018. A year later, Liane became associate director of Network IV and, in 2020, director.
Liane earned a bachelor's degree in biopsychology from Monmouth College, and a master's degree and doctorate in clinical psychology from the Illinois School of Professional Psychology at Argosy University.
In her free time, Liane enjoys attending concerts, and spending time with friends, family and pets. She lives in the south suburbs with her husband, Pete. She aspires to one day open her own animal rescue.