Trinity Services' leadership staff, also referred to as the Executive Committee, provide direction and support to the Trinity community. Leadership staff members meet once a week to keep the organization closely interconnected and ensure its mission is consistently carried out.

Leadership staff who compose the Executive Committee are listed below.
View All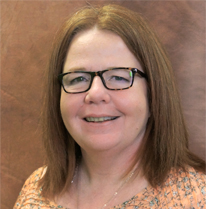 Michele Gossen
Director of Network III
Michele "Mickey" oversees residential programs for Network III, a large residential network covering the eastern portion of the Joliet area.
She has been part of Trinity Services since 1992, when she accepted a role as an independent living coach. She went on to become a QIDP and an associate network director before assuming her current role.
Mickey began her career working with people with intellectual disabilities as an activity therapist at PARC Home in Bellwood, Illinois.
Mickey holds a bachelor's degree in psychology from Western Illinois University and a master's degree in psychology, with an emphasis in behavior analysis, from the University of Nevada, Reno. She also has an Illinois teaching certificate from the University of St. Francis.
Mickey has two children with her husband, Dennis. Their family is rounded out by two dogs and two cats. She is an active member of St. Jude Catholic Church and attends monthly faith formation meetings. She also volunteers for her children's musicals and choir activities.