Trinity Services' leadership staff, also referred to as the Executive Committee, provide direction and support to the Trinity community. Leadership staff members meet once a week to keep the organization closely interconnected and ensure its mission is consistently carried out.

Leadership staff who compose the Executive Committee are listed below.
View All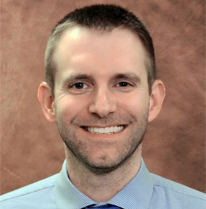 Mike Mecozzi, Psy.D.
Director of Network IV (Behavioral Health Services)
Mike serves as the director of Network IV, which encompasses all of Trinity's Behavioral Health Services, including residential services, psychosocial rehabilitation programs, the Trinity Counseling Center, Community Support Teams and the Housing and Urban Development program.
Mike started his career at Trinity Services in 2005 as a graduate extern in clinical psychology. He trained at Trinity for two years before moving to Little Rock, Arkansas, in 2007 to complete an internship at the Central Arkansas Veterans Healthcare System. Mike returned to Illinois and was hired by Trinity in September 2008.
In 2010, Mike was named the Clinical Director of the Behavioral Health Network. His primary duties included supervising three psychosocial rehabilitation programs and directing the graduate psychology training program.
Mike earned a bachelor's degree in economics from the University of Illinois at Urbana-Champaign in 2002 and a doctorate in clinical psychology from the Illinois School of Professional Psychology in 2008.
In 2013, High Tide Press published Mike's first book, The Other Side of Pain: Discovering Meaning When Life Hurts.
Mike enjoys reading, speaking, exercising, spending time with his family and rooting for all Chicago sports teams.