Trinity Services' leadership staff, also referred to as the Executive Committee, provide direction and support to the Trinity community. Leadership staff members meet once a week to keep the organization closely interconnected and ensure its mission is consistently carried out.

Leadership staff who compose the Executive Committee are listed below.
View All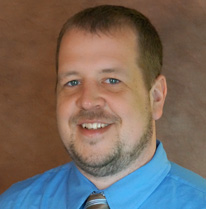 Andrew Long
Director of Network I
Since 2019, Andrew has supervised Trinity's Network I, which provides residential services to the central Joliet area.
As director, he focuses on ensuring people receiving services are healthy and enriched, encouraging staff to participate in organization-wide events and committees, and filling staff vacancies.
Andrew began his career at Trinity in 2004 as a counselor at Oak Center for Behavioral Health. He has served as a team leader, director of Oak Center, and associate director of Network I.
Andrew has a bachelor's degree in psychology from Eastern Illinois University. While at Trinity, he earned his master's degree in organizational leadership from Lewis University.
In his free time, Andrew enjoys spending time with his nephew, Braxton, and working on his plant and aquarium hobby.