Trinity Services' leadership staff, also referred to as the Executive Committee, provide direction and support to the Trinity community. Leadership staff members meet once a week to keep the organization closely interconnected and ensure its mission is consistently carried out.

Leadership staff who compose the Executive Committee are listed below.
View All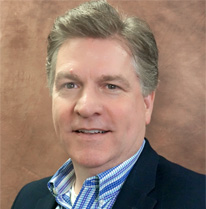 Bob Taylor
Chief Financial Officer
Bob joined the Trinity Services team in October 2018.
He has more than 20 years of financial leadership experience and has previously served as chief financial officer of a creative agency, an educational publishing company and a global communications agency. He is an active volunteer for social service organizations and has coached special needs hockey teams for more than a decade. He was named 2018 Coach of the Year by Chicago Blackhawks Special Hockey and 2013 Volunteer of the Year by Sabre Hockey Association.
Bob has an accounting degree from the University of Minnesota and is a certified public accountant.
He lives in Naperville with his wife and daughter, who has Down syndrome.