Trinity Services' leadership staff, also referred to as the Executive Committee, provide direction and support to the Trinity community. Leadership staff members meet once a week to keep the organization closely interconnected and ensure its mission is consistently carried out.

Leadership staff who compose the Executive Committee are listed below.
View All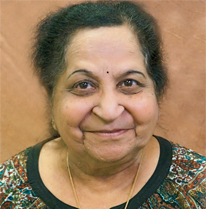 Dr. Rajani Patwari, M.D.
Director of Medical Services
Since 2015, Dr. Patwari has served as Medical Director of Trinity Services, overseeing the organization's medical clinic, providing medical consultation, monitoring medical conditions, maintaining relationships with local hospitals and nursing homes, and developing medical protocols.
Prior to her time with Trinity, Dr. Patwari was medical director at the Elisabeth Ludeman Center in Park Forest for more than 30 years, working to develop policies for the State of Illinois, conducting research projects with fellow medical directors and overseeing medical services at the center.
Beginning in 1989, Dr. Patwari worked part-time for Trinity as the primary care physician at the Trinity Living Centers for many years.
Dr. Patwari lives in Tinley Park and is actively involved with her temple. She loves to travel and teach young children, including her three grandchildren.