Trinity Services' leadership staff, also referred to as the Executive Committee, provide direction and support to the Trinity community. Leadership staff members meet once a week to keep the organization closely interconnected and ensure its mission is consistently carried out.

Leadership staff who compose the Executive Committee are listed below.
View All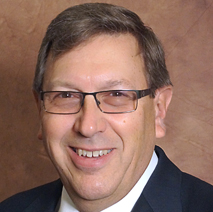 Mike Sieling
Chief Financial Officer
Mike has been part of Trinity Services since 1989 and helped to lead significant growth at the organization.
He has extensive experience in providing services for people with disabilities. Before joining the leadership team at Trinity, he directed a program for adults with intellectual disabilities at United Cerebral Palsy of Will County. Before that, he was a psychologist for 12 years and a unit administrator for 10 years at the Howe Developmental Center in Tinley Park.
Mike holds degrees from Montclair State University, Southern Illinois University and Governors State University. His master's degree in behavioral analysis is from Southern Illinois University.
Mike lives in the New Lenox area with his wife, Trina, and their two children.