Trinity Services' leadership staff, also referred to as the Executive Committee, provide direction and support to the Trinity community. Leadership staff members meet once a week to keep the organization closely interconnected and ensure its mission is consistently carried out.

Leadership staff who compose the Executive Committee are listed below.
View All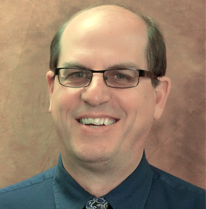 Thane Dykstra, Ph.D.
President and CEO
Thane has served as President and CEO of Trinity Services since 2018.
His career with Trinity began in 1995 when he became a clinical director of Trinity's Behavioral Health Network. From 1995-2016, he oversaw a significant enhancement of the network through its group homes and apartments, psychosocial rehabilitation programs, the Trinity Autism and Family Resource Center, the Trinity Counseling Center and the Illinois Crisis Prevention Network. From 2016-2017, he served as Trinity's Chief Operating Officer, supervising Trinity's specialized residential services and its assistive technology program.
Thane is a past president of the Illinois Association for Behavior Analysis. He has written for numerous professional publications related to his field of study, and he has presented extensively at national conferences and invited trainings. His current professional interests include contextual-behavioral therapies such as Dialectical Behavior Therapy (DBT), Functional Analytic Psychotherapy (FAP), and Acceptance and Commitment Therapy (ACT). He is especially focused on applying these models in work with persons who exhibit challenging behavior.
Thane holds a bachelor's degree from Valparaiso University and a doctorate in clinical psychology from the University of Nevada, Reno. In addition, he completed a pre-doctoral internship at Brown University in Providence, Rhode Island. While at Brown, he served as an assistant project coordinator at the university's Center for Alcohol and Addictions Studies.
Within Illinois state agencies, Thane has served on steering committees and work groups for the Department of Human Services (DHS)–both the Division of Mental Health and the Division of Developmental Disabilities–and the Department of Children and Family Services. He was appointed by the Governor to the state's Quality Care Board, an advisory committee for the DHS Office of the Inspector General.
Thane lives in Chicago's south suburbs. He enjoys spending time with his family, camping, hiking, geocaching, fishing and disc golf. Thane is also a committed runner and has completed several marathons.