Trinity Services' leadership staff, also referred to as the Executive Committee, provide direction and support to the Trinity community. Leadership staff members meet once a week to keep the organization closely interconnected and ensure its mission is consistently carried out.

Leadership staff who compose the Executive Committee are listed below.
View All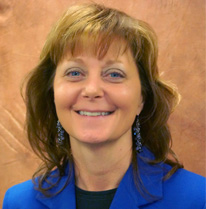 Tina Fogarty
Chief Operating Officer
Tina has served as Trinity's Chief Operating Officer since 2018, overseeing the organization's day-to-day operations, its specialized residential services and assistive technology initiatives, and its involvement in the Illinois Crisis Prevention Network and The National Association of QDDPs.
Tina joined Trinity Services in 2016 as its Director of Specialized Residential Services. Her expertise is serving people who exhibit challenging behavior.
Tina has worked in the field of human services for 25 years and has extensive experience working with people who have a dual diagnosis of a developmental disability and a mental illness. Prior to joining Trinity, Tina worked at Neumann Family Services for 22 years. As Neumann's Vice President of Programs and Services, she helped to develop, implement and lead a wide range of programs. The focus of those programs included residential, learning, employment, clinical and case management services.
In addition, she has served young adults with a dual diagnosis who were transitioning to community-integrated living arrangements (CILAs), or group homes, after receiving services from the Illinois Department of Children and Family Services.
Tina has a bachelor's degree in psychology from North Central College and a master's degree in gerontology from Roosevelt University.
In her spare time, Tina enjoys softball, volleyball, golf and gardening.