What would it mean for you to live your best possible life?
Maybe you wouldn't take anything for granted, would follow your dreams, and would regularly do what you love, surrounded by people you find to be most supportive.
For a person who faces barriers to independence because of a developmental disability or serious mental illness, support is what makes the best possible outcome a reality.

At Trinity Services, each day is a new opportunity to help people overcome barriers and achieve the things they want to achieve. Friends like you help make the best possible life a reality for people Trinity supports.

A Confident Life
Prior to receiving support from Trinity Services, Sarah experienced dark days that had a lasting impact on her life and well-being. Diagnosed with depression, she struggled with her self-confidence, and the weight of life's daily tasks became overwhelming.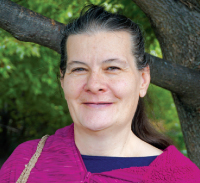 With counseling and therapeutic support, Sarah has come a long way with managing her emotions, working toward greater independence, and gaining self-confidence.
Sarah lives in Joliet with a caregiver and the caregiver's son who have become family to her. She likes to help with cooking, and she enjoys having her own space at her home. In her spare time, she likes to see her boyfriend Jack and spend time with her cat Selena.

Her caregiver encouraged Sarah to attend church, something she had not done since her husband passed away years prior. She enjoyed the experience and particularly liked singing. She lights up at anything music-related and sings each year at a competition at Trinity's Oak Center, where she receives therapeutic services. This year, she plans to sing Shania Twain's "Man, I Feel Like a Woman."

Sarah is looking for a challenging, new opportunity and is working with Trinity's Career Access Network staff, through the Individual Placement and Support Program, to apply for jobs.

Earlier in her life, Sarah enjoyed living on her own. Though she enjoys her current home life, she is working toward being able to experience this independence again. Sarah continues to make strides away from her difficult past, and is living her best possible life, gaining confidence with each day.
An Independent Life, Together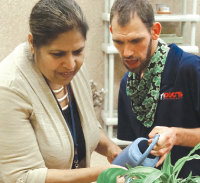 Brett and Adam are brothers who, as adults, enjoy the familiarity of each other's presence in their lives, but also value their independence as young men.

At 29 and 28 years old, respectively, the brothers' parents, who are now in their 80s, knew it was time for the two to move into a home of their own that could support their needs and also help them become as independent as possible.

Brett and Adam have developmental disabilities that prevent them from living on their own. Additionally, Brett has difficulty swallowing, and because of his risk of choking, another organization discharged him from its care.

Following this unfortunate setback, the young men's mother worried the pair would never receive the services they needed and would never be able to live together. It wasn't long after staff at Trinity Services heard the brothers' story that the two moved into their home in Frankfort.

"I'm very thankful for that," said Shelby Robinson, Brett and Adam's mother. "I think they need each other. They've been together for years and should be together."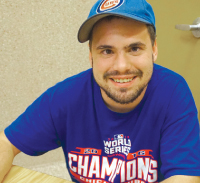 The brothers live with two other men, and during the day, they attend Trinity's community day services in Frankfort. At this program, they learn and work on new skills, and socialize with newfound friends.

When he first arrived at Trinity, Adam was reserved, but now he is talkative and enjoys going to sporting events, and on local trips with his brother and friends. Brett also took time to warm up to his new home, but now, he laughs with and enjoys being around staff and peers. He likes to listen to music in his spare time, particularly country and Christian, and take walks outside.

Their parents now have peace of mind that they will receive the support and the freedom they need to live their best possible lives.

A Strong Life
Ed, aka Buck, is 19 years old and full of joy for life. He grew up in a large, active family with many brothers.

As his brothers moved on to college and got married, without their strength around, it became apparent to his mother that Buck needed to be in a more supportive environment.

A guys' guy — and a bit of a ladies' man — he enjoys being around his peers. He moved into a group home in Wilmington, and after a brief adjustment, blossomed into becoming the life of the party.

Though he cannot communicate through speech and needs a wheelchair to get around, Buck shares his love of sports with his housemates and the staff who work with him, and at community day services, he is developing a relationship with a young woman.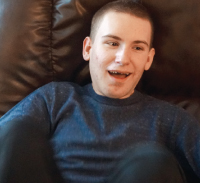 In his spare time, he enjoys playing basketball on an arcade-style setup in the garage of his house. With assistance from a staff member, he takes steps down a ramp from the house to the garage floor, working on strengthening his legs.

Buck was nicknamed after his maternal grandfather, Baldus — meaning "strong one", who was first-generation Norwegian. Buck keeps close ties to his family.
As is typical of many young people Trinity supports, Buck is tech-savvy and often calls his mom and brothers through FaceTime.

Trinity staff are working with Buck to help him use technology beyond entertainment — to better communicate his thoughts, emotions and needs with those around him.

Strengthening his communication skills, mobility and social fabric, Buck is experiencing his best possible life.

These three stories provide a big picture overview of progress people have made through support. The day-to-day ups and downs cannot all be captured in words, yet all of the people Trinity supports have lives just as nuanced and unpredictable as yours.

Trinity would not be able to help the people it supports live their best possible lives without the help of friends like you. State funding alone cannot fully sustain the services and supports Trinity provides. There are costs associated with equipment, maintenance of homes and program space, and each person's individual needs. Every donation to Trinity Services helps Trinity ensure that each person it supports is living their best possible life.

Please consider giving the gift of opportunity this holiday season by making a tax-deductible contribution to Trinity Services.

Donate now to make more opportunities possible for the people Trinity supports.